Meet Magic ..and enjoy more love and laughter from NY Times Bestselling Author Margaret Brownley
by today's guest blogger  Margaret Brownley
The hero's dog in my new book Waiting for Morning (Brides of Last Chance Ranch) is actually modeled after a darling Lhaso Apso owned by Reverend Diane Ryder, pastor of the Congregational Church of Chatsworth.  Rev. Ryder entered her pet in my "Your Dog in My Book" contest and Magic won both the contest and my heart.
Named after a street in Phoenix, Arizona, where he was born, Magic lived with a special-needs family and helped people unable to speak. Magic "wrote" that "every time I chased my tail or sat in a lap I would make my special friends smile."
Magic loves to eat and play with squeaky toys. Since no commercial pet toys seemed to exist in the 1800s, in my story Magic had to be content chasing after a squeaky wheelchair. Sounds like the perfect dog for my hero Dr. Caleb Fairbanks, wouldn't you say?
Magic has a long and noble heritage. Lhaso Apsos originated in Tibet and are one of the oldest recognized breeds in the world. Trained as watchdogs, these hardy canines guarded Tibetan royalty and Buddhist monasteries. They were highly prized and never sold. The only way a person could acquire a Lhaso Apsos was through a gift.
Lhaso Apsos didn't reach American shores until the 1930s which rules out finding one in the Old West.
But with a name like Magic anything is possible . .
Waiting for Morning
by Margaret Brownley
Thomas Nelson, Publisher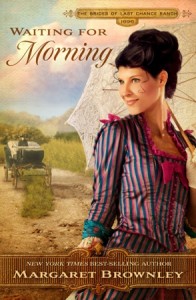 If Molly Hatfield's purple attire doesn't blind you, her dazzling smile will.  She doesn't just sing to the cattle, she puts on a whole show. If only she wasn't so stubborn about her brother's care.  Or so distrustful of a certain handsome doctor…
About the author…
Thrills, mystery, suspense, romance: Margaret penned it all. Nothing wrong with this—except Margaret happened to be writing for the church newsletter. After making the church picnic read like a Grisham novel, her former pastor took her aside and said, "Maybe God's calling you to write fiction."
So that's what Margaret did. She's now a New York Times bestselling author
and a Romance Writers of America RITA finalist with more than 25 novels to her credit.  Her first non-fiction book Grieving God's Way: the Lasting Path to Hope and Healing has won much critical acclaim.  She is currently working on the third book in her Brides of Last Chance Ranch series "Dawn Comes Early" is available now and "Waiting for Morning" can be preordered.
Not bad for someone who flunked 8th grade English.  Just don't ask her to diagram a sentence.
For a chance to win a hundred dollar Amazon or B&N  gift card from this publisher, preorder a new copy of  Waiting for Morning and forward the receipt  to ipreordered@gmail.com.  That's all there is to it.  Good luck!
www.margaretbrownley.com