Jean C Gordon welcomes you to Tinhorn Farm!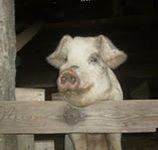 by guest blogger  Jean C Gordon
If someone had told me 15 years ago that I'd now be living on a pig farm, I would have told that person he or she was crazy. But 14 years ago, my husband and I bought a small farm in Upstate New York with our daughter and son-in-law —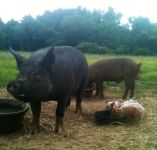 ostensibly for them to grow fruits and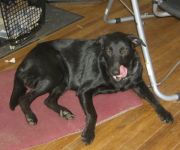 vegetables.
A couple of years later, my son-in-law brought home a pair of Yorkshire pigs and started Tinhorn Farm, his pastured pig operation. Pastured pigs are pigs that are put out in fields to root and roam, rather than kept penned in a barn. Among our resident pigs, we have Yorkshires (Benny, as a youngster), Old Spots (Clarence), and Berkshires (Nubbins).
Having pigs can be exciting. For example, one snowy winter evening, the first year we had them, I came home from work and turned into our driveway to see 400-pound Benny, his 300-pound partner Mama, and their two half-grown offspring marching toward my car. They'd broken the fence surrounding the barn. My daughter and son-in-law and their family were in in Florida visiting his father. My husband was working late. I called a farmer friend and he and I got the group back into the barn. When my husband got home, they repaired the fence.
Tinhorn Farm now has much better fencing, along with the watchful eyes of Mr. Buttons and Xena, both black lab/boxer mixes, to keep the pigs in their pastures.
Shameless family promotion: You can follow Tinhorn Farm on Facebook (http://www.facebook.com/pages/Tinhorn-Farm/268979333162037?ref=ts&fref=ts)
And here's some information about Jean's new book — no pigs involved!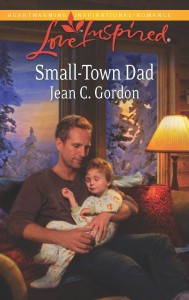 Lessons in Parenthood
Love Inspired
Small-town electrician Neal Hazard gave up his dreams years ago to raise his daughter. Now it's his turn to makethose dreams a reality. But when his community college advisor turns out to be his high school prom date, he can't believe his eyes. Widowed Anne is more beautiful than he remembers, and completely wrapped up in her career. But when she suddenly becomes guardian to an orphaned toddler, it's Neal's turn to teach Anne a few things. Maybe together, they'll learn how priorities, parenthood and love truly fit together to create a family.
Keep in touch with Jean on Facebook and Twitter
www.Facebook.com/JeanCGordon.Author
@JeanCGordon
And check her website for a chance to win one of
three copies of Small-Town Dad, www.JeanCGordon.com