AUTHOR CAROL POST & TUBBY, KITTEN EXTRAORDINAIRE!
By guest blogger Carol Post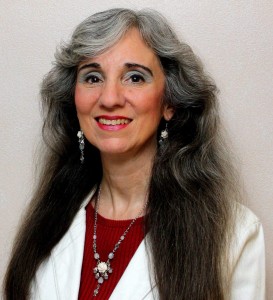 All of our animals have been rescues of some type. Smudge (a/k/a Tubby) was no exception.
One rainy Sunday night after church, we pulled into the carport, and our daughter heard a kitten crying. My husband had done some yard work the prior day and stacked limbs beside the road. Huddled under a clump of Spanish moss, soaking wet and shivering, was a tiny white kitten. I brought him inside, blow-dried him, then fed him.
.
Since we already had two cats, my husband said there was absolutely no way we could keep him. I put him in the play room where he would be separated from the other cats until I could take him to the Humane Society.
.
But after clunking him in the head with the door a couple of times and wondering why he didn't get out of the way when he heard us approach, I figured out he was deaf. There was no way we could turn away a "disabled" kitty, so my husband softened and we became a three-cat household.
Next was the task of naming him. He had two gray smudges on the top of his head, so we called him Smudge.
.
As he got older, the smudges disappeared. He kept the name Smudge, but acquired a couple of nicknames along the way – Tubby (for obvious reasons – rations are hard to control in a multi-cat household) and Roadkill (because his favorite position was on his back with his legs in the air).
.
Since he was deaf, he wasn't afraid of anything. When cleaning, I had to nudge him with the vacuum cleaner to get him to move. He loved going for rides in the car and taking walks. When he would see me get his leash out of the closet, he would start purring, knowing he was going somewhere. He made several trips with my husband and me from Florida to North Carolina, and one trip to Connecticut and back.
.
We always stopped at rest areas along the way and let him get some exercise at the dog walks. People would glance down, do a double take and say, "Oh, my goodness, that's a cat!"
My parents loved Tubby, and when my dad was dying of cancer in 2007, we made monthly trips to North Carolina, Tubby in tow. Mom said several times how Tubby's presence there comforted and cheered her. Animals have a way of offering unconditional love and bringing a calmness to trying circumstances.
Tubby has since crossed that "Rainbow Bridge," and we will always miss him. But he lives on in my debut novel, Midnight Shadows.
.
.
Midnight Shadows,
Love Inspired® Suspense, Jan. 2013
2012 Golden Heart® Finalist
With a relentless stalker after her, Melissa Langston flees Georgia for her small Florida hometown. Despite changing her name, she soon finds anonymous notes on her doorstep and a menacing figure lurking in the shadows.
She's sure her stalker has tracked her down, but the police think she's overreacting. The only one who believes she's in danger is the former cop who broke her heart years ago. Melissa is afraid to get too close to ex-fiancé Chris Jamison, who is back in town to settle family business. Because the more she turns to the handsome man she's never forgotten, the more her stalker wants Chris gone – permanently.
4-Star RT Review – "…Post's characters have a vulnerability that's easy to relate to in this strong debut that will keep you guessing about the stalker's identity."