Note from Roxanne:  Kathy is offering a free book!!  She will draw a name from those who leave a comment for this blog.  Good luck!
LOVE CAN SCALE A WALL
by guest blogger Kathy Harris
In the late 1990s, my husband began traveling for work. He was out of town for days, even weeks, at a time. Our house was far too empty—and quiet. I knew it was time for a puppy.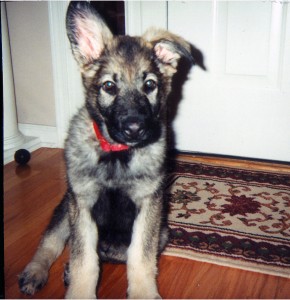 I had recently seen, and fallen in love with, photos of Shiloh Shepherds, a breed that resembles old-fashioned German Shepherds but matures to almost twice their size. Unfortunately, most Shiloh breeders were located several hundred miles or more from Nashville.
Buying a puppy online didn't seem like the ideal way to find a 'best friend,' but I decided to check it out. I called the breed founder, Tina Barber, in Upstate New York and she assured me that she could arrange a good match.
She asked what I was looking for in a dog, so I rattled off a wish list: gentle, alert, medium temperament, smooth coat. A few days later, she e-mailed me a photo of a grey sable puppy that captured my heart.
Soon Baer was on a plane bound for Nashville. I had already picked out his name, Freund Baer, which translates roughly from German to "friend bear." And the day I picked him up at the airport was the beginning of a lifelong friendship between us.

Only a few months later, when Baer was still a young puppy, I was home alone and a utility repairman appeared unannounced at our front door. He asked me to step outside so we could discuss a water line problem. Baer was in the backyard, and as soon as he heard the stranger talking with me, he did something I would never have believed was physically possible for such a young dog. He scaled the six-foot wooden fence between us and ran straight to my side. While I've never understood how he did it. I always knew why he did. He wanted to be sure I was safe.
Only one other time, much later in his life, did he find it necessary to come to my aid. And, even though he grew to a giant size, thirty inches or more at the shoulders, and he could have easily scaled our fence, he never did. I guess he had no reason to, because everything he loved was inside those walls.
In 2008, Baer crossed the "rainbow bridge," and we still miss him. But we look forward to seeing him again someday . . .  on the other side.
 Read on, about Kathy's new book!
The Road to Mercy
Kathy Harris, Abingdon Press, September 2012
Tragedy, love, and secrets meet on a journey of faith.
  Have you ever dared to believe you could find God's forgiveness, even when you can't forgive yourself?
Dr. Ben Abrams, rescued as an infant from a fiery crash that killed his family, turned his adversities into success but lost his heritage of faith.Fifty years later, Josh and Bethany Harrison face a difficult decision that also tests their faith. A rupture in Beth's carotid artery leaves her on the brink of death, even as she's pregnant with their first child. While Dr. Abrams urges her to abort the baby to save her own life, she and Josh step out on faith and ?continue the pregnancy.During the next few months, Josh, a contemporary Christian singer, struggles with his faith while Beth hides a secret that may destroy their marriage. She also discovers a decades-old connection to Dr. Abrams that could change his life forever.
About Kathy…
Kathy Harris is an author by way of a "divine detour" into the Nashville entertainment business. After graduating with a Communications degree from Southern Illinois University, she moved to Nashville, Tennessee, to work with a well-known gospel music quartet. A few months later, The Oak Ridge Boys began their transition into country music, and Kathy had the opportunity to help build an entertainment empire from the ground up.
She worked her way to becoming a member of the Operations Management Team, eventually heading up the company's public relations and marketing department. A lifelong fascination for books and editing led to her working as a book agent for Oak Ridge Boys' vocalist Joe Bonsall. Joe has, subsequently, published three books, including his bestselling inspirational biography, G.I. Joe & Lillie.
For several years, Kathy freelanced entertainer biographies and wrote (as well as ghost wrote) news stories and columns for various music publications. In 2007, she sold her first Christian non-fiction story, "Walk on Water," which was included in Thomas Nelson's All My Bad Habits I Learned from Grandpa. That fall, one of her devotions was included in The One Year Life Verse Devotional, published by Tyndale House. Kathy's writing is also included in Chicken Soup for the Soul Thanks, Mom. Her debut novel, The Road to Mercy, releases in September 2012 from Abingdon Press.
An active member of American Christian Fiction Writers and the publicity officer for Middle Tennessee Christian Writers. Kathy lives near Nashville with her husband and their two Shiloh Shepherd dogs, Glocken and Jazz. She regularly interviews literary and music guests on her blog at www.DivineDetour.com.
You can visit her author website at www.KathyHarrisBooks.com    or on Facebook at https://www.facebook.com/KathyHarrisAuthor.