Leigh Michaels, dogs, and The Birthday Scandal!
Guest blogger Leigh Michaels will be giving away a set of three books in  the "Hiring Ms. Right!" trilogy to one of the people who leave a comment here.The set is now out of print and is not available in ebook, so this is your chance!  Winner needs to have a USA address. 
 These days I think of pets the same way I think of babies – they're cute as heck as long as they belong to someone else. I pet them (though not as often as I used to, after that darling golden retriever puppy gave me a whole lotta lovin' and a good case of poison ivy) but I'm happy to let some other lucky person do the walking and the feeding and the scooping.
It wasn't always that way. Charley, my rescue mutt, was a poodle-terrier mix whose great-grandma must have sniffed around a Schnauzer. He was my pal for fourteen years, and right up till the end he thought he was a forty-four pound puppy. In fact, Charley's vet used to lecture him about playing too hard – usually about the time we had to fix another tendon pulled in a tug-of-war accident.
Charley's favorite toy was a hard rubber ring which he'd chew on, carry around, and slyly stick into any human hand which he spotted dangling or unoccupied. I can't count the number of times I'd find myself playing tug-of-war without any idea how the game had started – or when.
So when I was writing my new book, in which there's an elderly, independent-minded, and irascible duke, I figured he'd be just the sort to have dogs. Lots of dogs. Big dogs. And one of those dogs has my Charley's habit of teasing anyone who's handy until they'll play with him – though Balthazar's weapon of choice is a soggy braided rope, and his tug-of-war game is actually a hint for the alert reader….
Leigh Michaels is the author of 100 books, including historical romance, contemporary romance, and non-fiction. Her newest release is The Birthday Scandal, October 9, from Montlake Romance.
http://www.amazon.com/Birthday-Scandal-Leigh-Michaels/dp/1612184766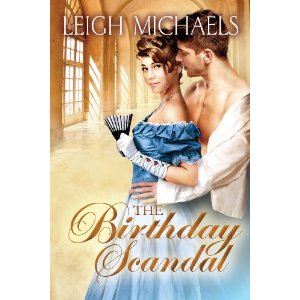 The wealthy Duke of Weybridge knows that everyone loves a good surprise…and a good scandal. He has bounteous amounts of both for the guests—particularly for his nieces and nephew, Emily, Isabel, and Lucien—at his extravagant seventieth birthday ball. They think his promise to improve their lives means a generous stipend. But he's got different gifts in mind: finding them the perfect matches. His task won't be easy, because the Arden siblings have given up on love.
Bachelor Lucien spends more time merrymaking than looking for a proper wife. His sister Emily, broken-hearted when her betrothal ended in disgrace, committed herself to an early spinsterhood. And Isabel's marriage has been troubled from the moment it began—with a terrible betrayal on her wedding night.  Though witty and strong-willed, the siblings are no match for their uncle's wily machinations. And as the celebration approaches, his romantic scheming ignites illicit liaisons and irresistible temptations, sparking enough rumors to keep the ton abuzz until his next birthday.
www.leighmichaels.com
http://leighmichaels.blogspot.com
NOW AVAILABLE — Regency-period historical romance
The Wedding Affair,  Just One Season in London & The Mistress' House

COMING SOON —
The Birthday Scandal (Regency-period historical romance)
Return to Amberley (contemporary sweet traditional romance)