Author Terri Reed, a trip to England, and The Doctor's Defender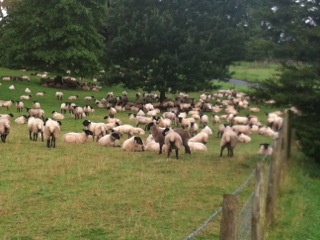 Note:  Terri will be giving away two previously  published books to one commenter, so be sure to leave her a note below!
This past summer I visited England.  We were there to drop our daughter off at the university in Richmond upon Thames.  While there we rented a car and drove out to the countryside.  A most terrifying exhilarating experience!  The rolling hills, green grass and wooded landscape reminded me so much of Oregon where we live.
As we were driving we came across a pasture of sheep.  I've never seen so many in one place before.    We stopped so I could take a picture.  As I was standing there surveying the flock, I was reminded of Psalms 23:1-6.
The Lord is my shepherd; I shall not want.2 He maketh me to lie down in green pastures: he leadeth me beside the still waters.3 He restoreth my soul: he leadeth me in the paths of righteousness for his name's sake.4 Yea, though I walk through the valley of the shadow of death, I will fear no evil: for thou art with me; thy rod and thy staff they comfort me.5 Thou preparest a table before me in the presence of mine enemies: thou anointest my head with oil; my cup runneth over.6 Surely goodness and mercy shall follow me all the days of my life: and I will dwell in the house of the Lord for ever.
The words played in my mind, soothing and comfortable.  I've always found verse six especially interesting. It doesn't say goodness and mercy will go before us, or be with us but be what is left behind in our wake.   What a wonderful reminder of how we are to act everyday.   This month I have a new release out, The Doctor's Defender.   I think Doctor Brenda Storm tried very hard to live out this verse.
The Doctor's Defender
Love Inspired Suspense
October, 2012
Do No Harm…
As a trauma surgeon, Dr. Brenda Storm saves lives every day. But someone wants her dead.  It starts with the anonymous delivery of poisoned cupcakes.  Now the hospital has hired a bodyguard to protect her 24/7.
At first, Brenda doesn't think too-handsome Kyle Martin is the right for the job.  Then she discovers his harrowing background—and that Kyle will do anything to keep her safe.  With every attempt on her life, she's more drawn to the strong and silent man who risks his life for hers.  But their growing feelings could put them both in harm's way.