I have a new book out now!
I have a book out in the stores right now–November, 2011–and since I often feature new books by other authors, I figure I'd better let you know about mine!  It's a Love Inspired, and its part of the Rocky Mountain Heirs series.  I hope you'll check it out!
RT Bookclub Magazine Rating
THE LONER'S THANKSGIVING WISH (4) by Roxanne Rustand: To satisfy the conditions of her grandfather's will, Mei Clayton has returned to the hometown and family that never seemed to accept her. Both sides of her family are at odds and Jack McCord, Mei's high school crush, is linked to t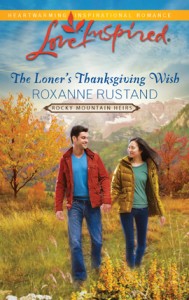 he wrong side. He may be able to get on her mother's good side when he offers to track down Mei's missing brother. Someone seems determined to run Mei out of town. Can a Thanksgiving meal mend the rift in her family? At times, many feel that, due to their differences, they do not belong. Rustand reminds us that God always has a plan, even if it is not obvious to us.