Horse Therapy, by author Connie Almony
Horse Therapy, by guest blogger Connie Almony
My sister is one of those crazy horse people. You know, kind of like Liz Taylor in National Velvet. She's not a champion rider or anything like that, but she loves the animals and thinks they hold the key to healing many ills. In fact, she was the one who first told me about the various forms of therapies now being done using horses.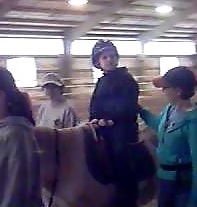 I was first introduced to this idea as a form of therapy for my son who has autism. Therapeutic riding (or hippotherapy) was recommended in order to help him with issues such as balance, fine motor skills, visual motor skills, bilateral control and cognition. Therapists incorporate the rhythmic motion of the horse to help stimulate more adequate sensory processing of the world around him.  It also has the added benefit of providing an opportunity for a relationship with an animal (sometimes less threatening than humans) and gave him self-confidence as he attained various riding goals. There was nothing like the sight of my son on a horse—regal! He looked like a king on his steed.
Since this time, my sister told me of other ways horses are used for healing. She's even been trained in something called "equine-assisted psychotherapy." I know—a mouthful! In this therapy, the horse is used, not to ride (necessarily), but as a diagnostic tool. Psychotherapists can actually assess relationships within a family, or group, by how the horse responds to them. Amazing!
So, it's no wonder that when I considered incorporating therapies to help a veteran amputee for my novella, At the Edge of a Dark Forest, horses came to mind. And I'm so glad they did, because not only can horses be used to help an amputee improve his gait with new, prosthetic limbs (as is necessary for the main character), the relationship with a horse can improve his psyche.
Many veterans come home from war scarred with the effects of PTSD. They have seen the loss of human life on a scale the average person has not. Because of this, many will withdraw socially and engage in thoughts of suicide. A bond with a horse can be the bridge the veteran is not yet willing to take with another human being.
Therapists choose horses whose temperament will be a good fit for the veteran's needs. They will spend time together in grooming, saddling and riding, giving the veteran a sense of relationship, responsibility and leisure activity. The rocking movement can even stimulate chemical reactions in the brain which provide a sense of well-being, much like rocking a baby.
My sister could tell you oh-so-much more about this topic, but I'll spare you the details today. However, if you are interested to learn more about hippotherapy for veterans, click on the following links:
An article about the use of horses with veterans
Project Healing Horse—Youtube video.
**********
Connie Almony is trained as a mental health therapist and likes to mix a little fun with the serious stuff of life. She was a 2012 semi-finalist in the Genesis Contest for Women's Fiction and was awarded an Honorable Mention in the Winter 2012 WOW Flash Fiction Contest. Her newest release, At the Edge of a Dark Forest, is a modern-day re-telling of Beauty and the Beast about a war-vet, amputee struggling with PTSD.
You can find Connie on the web, writing book reviews for Jesus Freak Hideout, and hosting the following blogs: InfiniteCharacters.com and LivingtheBodyofChrist.Blogspot.com.
You can also meet her on the following social media outlets:
Twitter
Facebook
Pinterest
HERE IS AN AMAZON LINK FOR CONNIE'S NEW BOOK!  At the Edge of a Dark Forest: A Fairwilde Reflection Novella (Fairwilde Reflections)
At the Edge of a Dark Forest
Connie Almony
Released February 2014
Cole Harrison, a war veteran, wears his disfigurement like a barrier to those who might love him, shielding them from the ugliness inside. He agrees to try and potentially invest in, a prototype prosthetic with the goal of saving a hopeless man's dreams.
Carly Rose contracts to live with Cole and train him to use his new limbs, only to discover the darkness that wars against the man he could become.
At the Edge of a Dark Forest is a modern-day retelling of Beauty and the Beast. Only it is not her love that will make him whole.