Author Nike Chillemi….and her road to her first sale!
by guest author Nike Chillemi
Many moons ago, I posted on the Harlequin/Steeple Hill author board where I heard things like: head hopping was a no-no and I had to ask what head hopping was. After a year of trying to put together a manuscript, I sent it off to Emily Rodmell. She sent back a rejection letter indicating that I had writing ability but didn't have a clue how to write fiction. Of course, she said it much more professionally and nicer than that. At that time Harlequin offered a free online writing course. I took advantage of every single lesson and I still use a modified version of their detailed Character Information Sheet. I read Gayle Roper's Caught in the Act, Caught in the Middle, Caught in a Bind, Caught Red Handed series and realized how appealing a whodunit with humor could be. I ordered the entire Dropped Stitches series directly from Janet Tronstand for my childhood BFF who was then, and is still, battling ovarian cancer. Janet signed each one of them with an encouraging word. I have a great many Love Inspired Suspense novels on my shelves and one I particularly enjoyed, Roxanne, was your Hard Evidence, a prime example of how chilling it can be when a cold case heats up.
Early on, I knew I was going to forge my own path. I think it might've been Michael Hyatt who said, read the top writers in your genre. Well, somebody said it, and it sounded like real wisdom to me. So, I started reading. That's when I came across the 'Boo' series by Rene Gutteridge, which is a laugh riot, as well as suspenseful. I read every one of them and was convinced humor would be part of my writing style.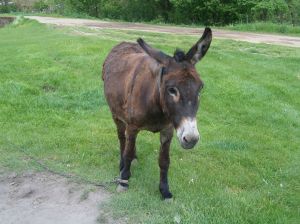 The next step I'm presently taking in my writing adventure is to self-publish a contemporary murder mystery with romance, some laugh-out-loud humor, and high jinx. Both of those things, self-publishing and releasing a contemporary story, are new for me. HARMFUL INTENT introduces New York City private investigator Veronica "Ronnie" Ingels and Taylor County, Texas Deputy Sergeant Dawson Hughes. While in Abilene, trying to clear herself in the murder of her cheating husband, Ronnie learns to ride a mule, takes a yoga class, hires on as a waitress, and gets shot at. She's taken with Dawson Hughes, but…ahem…how shall we put this? She's not the most socially adept gal at the rodeo.
I don't have a cover yet for HARMFUL INTENT. Ellen Sallas (Ellen C. Maze) is presently working on that. I can be reached at my blog: Nike Chillemi ~ Crime Fictionista http://nikechillemi.wordpress.com/
Facebook  https://www.facebook.com/nike.chillemi
Twitter  https://twitter.com/NikeChillemi