Lucy the Lab…..and author Valerie Hansen
by guest blogger Valerie Hansen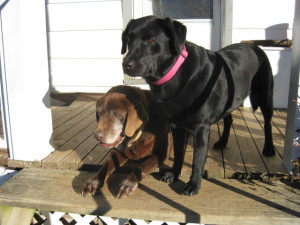 My last K-9 cop story for Love Inspired Suspense featured a black lab (and I've just been contracted to do another K-9 book for 2015!). At the time I was writing EXPLOSIVE SECRETS, I  had an antique chocolate lab named Charlie Brown, but writing that bo
ok made me crave a black one, too. That's how I got – and named – Lucy.
She was already over two years old by then. Unfortunately she'd been kenneled all her life, had no name, no training and very little loving experience with people. She was terrified of everything. Good old Charlie demonstrated trust and she was soon allowing me to touch her. Acceptance of others came slowly and she's still timid around strangers, which is pretty much everyone in the world! The great blessing in all this is that there's not a mean bone in her body so she never growls or snaps, and when she gets upset the first thing she does is run to me for protection.  So, she's a good watch dog with a complex! I can live with that, particularly now that we've lost Charlie to cancer. Poor old guy did his best for over 16 years and never complained. Lucy and I both miss him. I'll show you both dogs together and then just Lucy. Like me, she's put on a little weight. We're both looking forward to spring and summer when we can go outside to play more.
One more funny thing. On Sunday mornings, when I put on makeup, she never gets excited. Other times, when she sees me apply just lipstick, she runs in circles and jumps around, knowing there's a very good chance I'll let her ride to town with me. Makes me laugh every time.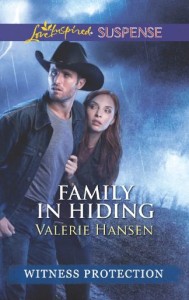 I'll have a Direct to Consumer offer of a reissue of "Shadow of Turning" coming in April, then the first of 4 new books for 2014 arrives in May. FAMILY IN HIDING is part of the Witness Protection series. Here's the cover. Now that I think about it, those kids would have adjusted to relocation better if I'd given them a family dog to take along!
(blurb) "Till death do us part. When her estranged husband Dylan's inadvertent dealings with a crime ring brings danger to her doorstep, Grace McIntyre has no choice but to follow him into the witness protection program. To safeguard her children they must all go into hiding as one big happy family. Grace doesn't know what's worse – having to pretend she's in love with the man who betrayed her trust or keeping ahead of the killers. In hiding, Dylan is all that stands between their safety and certain death. Now more than ever, he wants to be the man that Grace once loved. Keeping his family alive is his only hope – to be a hero and a husband."
Also, in May or June, there will be a digital-only prequel offered online to lead into the Big Sky continuity series.
It should be announced on the Love Inspired part of Harlequin. I think it's 

free

!
In July, I have HER MONTANA COWBOY, book #1 in the Big Sky series for Love Inspired
August is A TRACE OF MEMORY, another of my Defenders books set in rural Arkansas and featuring the CASA program volunteers who protect children and speak for them in court.
And, in November, one more Defenders book. Whew! I'm still working on that one and will finish it on time. Yes, I will!!!!
Moving into 2015, there will be another K-9 cops series, as I mentioned above, and I'm delighted to be a part of it, too. They want me to write about a beagle this time. There is zero chance I'll get another dog for every book I write. Well, almost zero.