Have you ever had a crazy or silly pet? I have!
I've written over forty novels and novellas (with twenty-five available on Amazon and four more coming in 2023), and I love incorporating my favorite horses and pets when I can.
Last month, my newsletter was about my crazy, funny childhood horse Cherry, who was the ultimate equine escape artist. He was part of CHRISTMAS DANGER, the Christian romantic suspense novel I released on February 7th.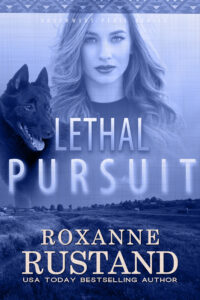 LETHAL PURSUIT is my new Christian Romantic Suspense novel releasing today, April 11th, 2023.    Click either of these book titles in my Southwest Peril series to read more about them on Amazon.  Here's a quick description:

What happens when a woman loses nearly everything–her husband, her home, her reputation, and is suspected of a crime she didn't commit?
A legacy, her late aunt's small-town cafe–is Beth's chance to rebuild a secure life for her little girl far, far from Chicago, though little Lone Wolf, Texas, might not be quite ready for the sort of ruffles and lace café she has in mind. That can all be sorted out.
But when a dangerous stranger from her past follows her there…
                                                                      * * * *
In Lethal Pursuit, our dog from the 1990s, a Schipperke named Cinder, is a part of the story under the pseudonym Viper.  Are you familiar with this breed?
Cinder was nine pounds of fierce, dauntless canine independence with a dense black coat and a lion's mane of bristly hair. With her pointy ears and an impressive array of sharp teeth, we all thought she looked like a fruit bat when snuggling peacefully upside down in my husband's arms while he watched television.  She was totally dedicated to him. The rest of us, she tolerated.  And about that independence….
She was a house dog, like all of our dogs before and after, and seemed to have a brain abnormality from birth, given the two-plus years it took for house training and her penchant for marching in tight circles (only to left, never, ever to the right), and her unpredictable snappishness.   But the worst:  She would lurk behind the unwary (especially visitors) when they opened the front door, and then shoot out of the house and down the road.
It might have been amusing to see this supersonic black bowling ball rocket down the road. But it wasn't so amusing when she couldn't be caught.  She would linger near our yard (and the neighbors) at night, barking madly, though we could only see the glitter of her eyes because the rest of her was like a black hole in space, her dense black coat absorbing any light and reflecting nothing.
In the wee hours, I would then sit outside in my nightgown trying to lure her inside with bits of steak and pork chops and all manner of leftovers. Nope. She would come close just so far, then take off, barking endlessly.
It always took about forty-eight hours for her to get hungry enough to come home.  Back then, we used a long tie-out cable for letting the dogs briefly go outside to do their business and didn't have an Invisible Fence to keep our dogs at home. But now we sure do!
 Once, someone caught Cinder and even tried to keep her despite her license tags. During one of my daily calls to the humane society, we learned she had been turned in. The "new owners" said they had to get rid of her ASAP as she was an impossible dog. LOL.  We already knew she was, but our pets are cherished and have forever homes with us until the day they die.  Even if they're a bit naughty! 
I would love to read your comments about your own pets!  Leave a comment, and you will entered in a drawing for a free Kindle copy of COLD CASE DANGER , the first book in my Wyoming Courage series.
* * * *   
  HERE'S  A LINK FOR AN ONLINE BOOK FAIR, where you might find new-to-you-authors and some great bargains on Kindle Unlimited!   CLICK HERE    
                                                                                    * * * *
 THIS MONTH I'M FEATURING WONDERFUL AUTHOR JOSIE RIVERA AND HER NEW RELEASE!
1-800-Series Volume Two 
Josie Riviera is a USA TODAY bestselling author of contemporary, inspirational, and historical sweet romances that read like Hallmark movies. She lives in the Charlotte, NC, area with her wonderfully supportive husband. They share their home with an adorable shih tzu, who constantly needs grooming, and live in an old house forever needing renovations.
Sign up for her newsletter and get a FREE ebook on her website: http://josieriviera.com/
Have you ever tried something you were afraid to try because it mattered so much to you? I did, when I started writing. Take the chance, everyone, and just do something you love.
Join her Facebook VIP team at: https://www.facebook.com/groups/1687211758162360/
Like" her Author Facebook Page: https://www.facebook.com/Josie.Riviera
Goodreads: https://www.goodreads.com/author/show/6587492.Josie_Riviera
Bookbub: https://www.bookbub.com/authors/josie-riviera
Follow her on Twitter: https://twitter.com/Josieriviera
Book info from Josie:
My newest boxed set, The 1-800-Series Volume Two, includes three clean, wholesome, and cozy small-town romance books.
The first book, "1-800-SUMMER," follows Belle Boots, an equine therapist, as she considers moving on from her current life until a man's offer changes everything.
The second book, "1-800-NEW YEAR," is a holiday love and romance story about Shanice Williams, who struggles to sell the old farmhouse she inherited from her grandmother, where she has fond memories with Lincoln Reid, her teenage crush.
The third book, "Christmas in the Air," is about Penelope Reid, a single mother in her late 40s, who meets an elusive, handsome stranger on a plane trip to Hilton Head Island and later discovers that he is the new pediatrician in town.
Each book in the set offers a chance at new beginnings, hope, and second chances for the characters. Readers can cozy up with their favorite beverage and lose themselves in these stories filled with delightful characters and brimming with joy.
The entire box set is only $2.99 for a limited time and FREE on Kindle Unlimited!
Amazon link:
Universal link (for all online stores!):
https://mybook.to/1-800-SeriesVolume2