Roxanne asks: What Pets Do You Remember from Childhood?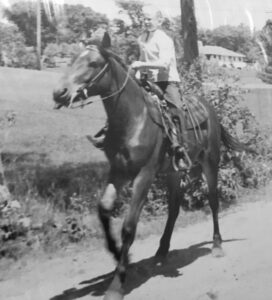 My brother and I had lots of pets while growing up. I look back now and just marvel over my parents' willingness to take in anything with fur, wings, hooves, or scales.
I got my first horse at the age of six and rode all over our small town bareback. Now I wonder, what was dad thinking to give a six-year-old such freedom?!  It was like giving me my own car keys, but times were much simpler then.  I will always be grateful for it—and for all of those adventures.
Over the years, I graduated from one horse to the next, and each one was unique.  Oh, the memories!  Quirky personalities abounded in our menagerie, and some still make me laugh.
And some have ended up in my various novels!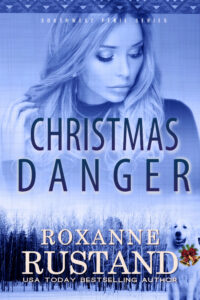 CHRISTMAS DANGER, my new release this month, for instance.
I had Cherokee during early junior high. He was a seventeen-hand Thoroughbred/Clydesdale cross, and it was love at first sight when I rode my horse to the local horse trader's farm and saw him.
Someone had bred him to be a jumper, I was told, though he wasn't athletic and ended up being a "kid horse" for me.  I traded my quarter-horse cross gelding for him (plus $12.50 in allowance money) and thought I'd made the best trade ever! My parents, mind you, knew little about horses and gave me considerable free rein. Bless them!
Maybe Cherokee wasn't a hunter-jumper candidate, but he sure was an escape artist…and in CHRISTMAS DANGER he appears as "Galahad," complete with some of his adventures when he'd go on the lam.
To this day, I still have horses, cats, and dogs, and can't imagine being without them.
Did you have any pets? Do you now?  Leave a comment, and you will be in a drawing for a free e-copy of  COLD CASE DANGER.
 Here's a quick intro for CHRISTMAS DANGER (available on Amazon.)  CLICK HERE to find it.
After facing a terrible loss, Johanna hopes to find healing and a new beginning by moving away. But will this decision be the last one she makes?
An escape artist of a horse and a Great Pyrenees pup the size of Texas are all the family she needs now—or so she thinks. So why is she drawn to a rancher who couldn't be more wrong for her?
But when a stranger begins threatening both her and the clinic she runs, dangers mount. And that rancher might prove to be exactly the man she needs.
"A heartwarming story of honor, love of family, and ties that bind through generations, even through life's most difficult challenges."   An online reviewer
Another suspense-filled inspirational romance by USA Today Bestselling author Roxanne Rustand