Back in January, I posted that our son Brian had married his lovely fiancee Julie.  I posted some photos on Facebook, but haven't shared them here, yet.  What an exciting weekend that was!  They chose to have their ceremony, reception and dance at a beautiful lodge set in the middle of a park, and used a wintery, outdoorsy  theme just perfect for them.  The snow frosted branches outside the windows and the decorations inside–pine cones, touches of cranberries, and literally hundreds and hundreds of candles–were so pretty.
At the right is the lodge in the afternoon, while it was being decorated.  They were so fortunate–there hadn't been any snow all winter, but the day before, we had a lovely snowfall.  These photos are mine, but I cannot wait to see the photographer's professional results!
Once darkness fell, everyone in the wedding party and lots of their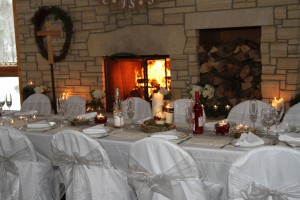 friends began lighting the candles.  So romantic!
This is the head table, with a cheery fire in the fireplace as a backdrop.
And this is Julie, Brian's beautiful bride.  What a great match they are–both are outdoorsy people who love dogs, kayaking, hiking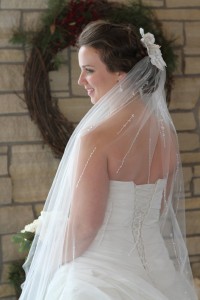 and travel.  Now, in addition to our "grandpuppy" Abby  (Brian's black lab, who was featured here on the blog a while back), we  have another grandpuppy–Julie's golden retriever Kobe.  The family all refers to Kobe as the Fabio of the Dog World, because of his flowing golden locks.  What a sweetheart he is!
During the first part of their honeymoon they went hiking and mountain biking in Utah, then they went on a trip to Cambodia, Thailand and Laos.  Back in the dark ages, when my husband and I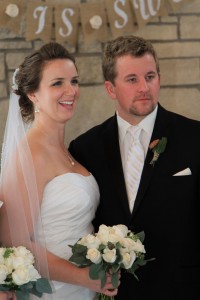 got married, we weren't nearly that adventurous, though we did go to my favorite place in the United States, the Grand Tetons in Wyoming.  That part of the Rocky Mountains is so incredibly beautiful!
What places do you love to visit most?  Where would you love to go, if you could pack up and leave right now?  Someday I would so love to visit Ireland and England. It's fun to dream, isn't it?
Best wishes to you all for a wonderful day!
Roxanne