Ridin' The Beach Ain't Riding the Range! Janet Chester Bly
RIDIN' THE BEACH AIN'T RIDIN' THE RANGE
Janet Chester Bly
Copyright©2012
I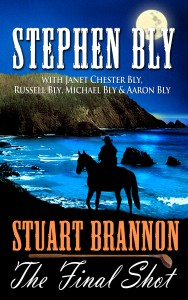 n the new novel Stuart Brannon: The Final Shot, Brannon leaves the comfort and security of his Arizona ranch to head to Oregon to find his missing U.S. Marshal friend. By orders of another friend, none other than President Theodore Roosevelt.  It's now 1905, the 20th Century, modern times. It's the close of the frontier times. Brannon's in his late fifties and not used to the culture and geographical terrain of this coastal region. Neither is unhappy, cantankerous Tres Vientos, his trusty black horse.
After being cooped up in a train car on the long ride north, Tres Vientos rears up and storms through the Portland city traffic. He takes Brannon on a wild ride through the Lewis and Clark Centennial Exposition, where he riles up tourists, stirs out fire trucks and captures the attention of the world's fair authorities. Then he lands Brannon smack in the clutches of his old nemesis, Hawthorne H. Miller, the author of the outrageous dime novel series that feature Brannon and have caused him much consternation over the years.  That's the beginning.
When they reach the Oregon coast, Tres Vientos balks at the unfamiliar sights, sounds and smells. Once the horse is delivered to a well-stocked and cared-for stable and barn on the hotel grounds, he doesn't want to leave. When Brannon needs him to investigate the beach, hills and forest areas for clues of the whereabouts of Tom Wiseman, Tres Vientos refuses to cooperate. Brannon's forced to find other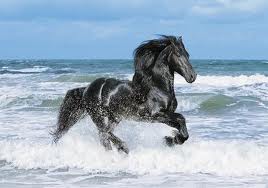 means of transportation, such as a bicycle or a motor car, with humorous results. Brannon tries to recover from the slap of humiliation that he was unable to control any horse. "I guess I finally found a bronc I can't ride. . .my own."
Tres Vientos had been a sturdy horse for Brannon. One time Tom Wiseman had helped Brannon round up some stray cows that stampededin a thunderstorm. He rode Tres Vientos a hundred miles that day. Only a fit horse could complete such a ride. But Tres Vientos, like his owner, had aged. He needed extra care and patience.
from Stuart Brannon: The Final Shot But his troubles with his mount cause him to befriend a horse savvy orphan named Bueno and to come in contact with an old Clatsop Indian, Catcher-of-the-Sun, who entices Tres Vientos to run with the wild horses, "to join the ancient race, run with his kind," along the beach one night. Both of these characters provide crucial twists in the story.
Brannon muses about the new-fangled invention of automobiles and their use of 'horse power,'  and marvels once again at the beauty, the grace, the prowess of a horse. A motor car is a poor imitation.  Both horse and owner want to be back at the ranch. But Brannon's got a duty to perform. And Tres Vientos finally finds his beach stride in the nick of time. Brannon concludes, "When he is good, he is very, very good. But when he is bad . . . ."
~~~~~~~~~~~~~
Janet Chester Bly has authored 30 nonfiction and fiction books, 18 she co-authored with Christy Award winning author, Stephen Bly. She and her three sons completed Stuart Brannon: The Final Shot, the novel Stephen began before he passed away June 2011.  Release date: March 2012.
Other titles by Janet include The Hidden West Series, The Carson City Chronicles, Hope Lives Here, and The Heart of a Runaway. She resides at 4200 ft. elev. on the Idaho Nez Perce Indian Reservation. Her three married sons, Russell, Michael and Aaron, live down the mountain with their families.
Thanks so much for visiting The All Creatures Great and Small blog, Janet.  To readers everywhere, don't miss this book!  What a talented writing team Stephen and Janet were.  I will be looking forward to many more books by Janet in the future.