Jill Eileen Smith chats about her cats–and her new book, Sarai!
The first year of our marriage, Randy and I got an orange tabby that we named Sandy. Sandy lived 21 years and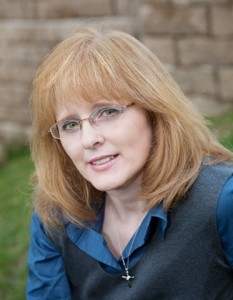 was the most loving, tolerant cat I've ever known. He allowed our nieces and nephews, and later our children to carry him around – and they weren't all that careful in how they held him – without a complaint. He could be fussed over and loved to snuggle, and when I was sad, he knew. He had a sixth sense about emotions and knew how to comfort in time of need. He caught a bird once and had to "show" me, then when I freaked out, he kindly let the bird go. He played with the Spaniel next door and though declawed, had no fear of exploring the outdoors. The day we had to say goodbye was so hard!
The next day we bought Shadow – a gray tabby. Shadow isn't like Sandy. He is a feral cat and in his younger days did not care for snuggling like Sandy did. He does come when called, and his favorite time of day is evening when he knows he will get a snack of Fancy Feast. He lives to eat, I think. And as he's aged, he's mellowed. Especially when we brought Tiger home.
At first, Shadow did not like Tiger invading his house! Tiger was about four months old when we got him, and he loved everybody! He wanted to play with Shadow, and to sleep snuggling at Shadow's side, but Shadow made it pretty clear that he wasn't the snuggling type. Sometimes they do sleep side by side. Shadow tolerates Tiger more now, though he still gets annoyed with "that kid."
Tiger is an affectionate, playful tiger striped tabby, who now weighs more than Shadow. He is appropriately named,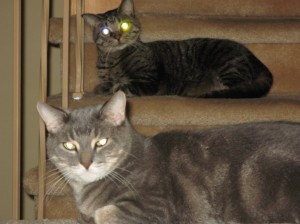 as when he gets feisty he shows his "tiger" face, but he is as gentle as Sandy was and equally loving. All three kitties have brought a lot of joy and laughter to our lives over the years, and comic relief to stressful situations. They can be counted on to make us smile.
The picture is of Shadow and Tiger. I don't have a digital one of Sandy. Shadow is about 13 now and Tiger is 6. I can't imagine life without a cat.
SARAI
Revell Books
by Jill Eileen Smith
He promised her his heart. She promised him a son. But how long must they wait?
Sarai, the last child of her aged father, is beautiful, spoiled, and used to getting her own way. Even as a young girl, she is aware of the way men look at her, including her half brother Abram. When Abram finally requests Sarai's hand, she asks one thing–that he promise never to take another wife as long as she lives. Even her father thinks the demand is restrictive and agrees to the union only if Sarai makes a promise in return–to give Abram a son and heir. Certain she can easily do that, Sarai agrees.
But as the years stretch on and Sarai's womb remains empty, she becomes desperate to fulfill her end of the bargain–lest Abram decide that he will not fulfill his. To what lengths will Sarai go in her quest to bear a son? And how long will Abram's patience last?
A review from PW (Publisher's Weekly):
"Smith is at her best in handling the triangulated relationship between Abraham, Sarah, and Hagar…Smith breathes new imaginative life into a well-known sacred story."
For a sample chapter, visit Jill's website: http://www.jilleileensmith.com/books/sarai/preview/
For links to purchase the book online visit: http://www.jilleileensmith.com/books/sarai/
or visit your favorite local bookstore.
Jill Eileen Smith is the bestselling author of Michal, Abigail, and Bathsheba, all part of the the Wives of King David series. Her research into the lives of David's wives has taken her from the Bible to Israel, and she particularly enjoys learning how women lived in Old Testament times. She lives with her family in southeast Michigan.
Thanks so much for visiting The All Creatures Great and Small blog, Jill. Your latest release sounds wonderful, and I look forward to reading it!  If any of you would like to ask questions or chat with Jill, here is your chance!