Margaret Daly, and "Fun with Cats!"
By guest blogger Margaret Daley
We have three cats in our home that found us over the years. Each one is unique and different from the others.  My male, Ringo, rules the house and tries to keep the two females in line. He doesn't always succeed. Peppers is my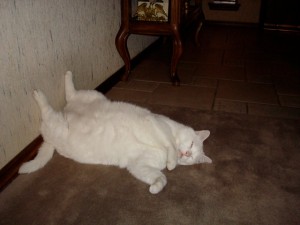 neurotic cat but is so loving. Her favorite place is to wrap herself around my neck, which can make it difficult to write at the computer. My third cat is the one that has made me laugh more than any animal I've had. She is so curious and gets herself into trouble. Once she snooped inside a plastic bag and got it caught around her. She ran through the house scared as though something was chasing her.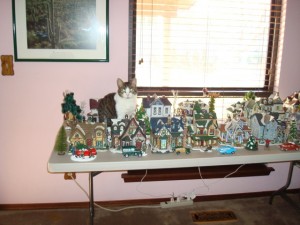 I still laugh when I think back to that. She is also the one that growls when she hears someone coming to the house. She thinks she is a dog. I often know when someone is coming before they ring the doorbell because she growls–then goes and hides.
One picture is Peppers being Catzilla through my Christmas village. The other picture is Ringo in his usual position.
What are some funny things your pet does?
Saving Hope by Margaret Daley is out this month from Abingdon Press. It is the first in The Men of the Texas Rangers Series.
When a teenager goes missing from the Beacon of Hope School, Texas Ranger Wyatt Sheridan and school director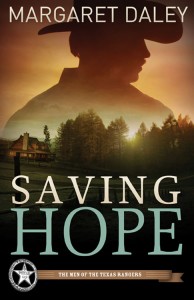 Kate Winslow are forced into a dangerous struggle against a human trafficking organization. But the battle brings dire consequences as Wyatt's daughter is terrorized and Kate is kidnapped.
Now it's personal, and Wyatt finds both his faith and investigative skills challenged as he fights to discover the mastermind behind the ring before evil destroys everyone he loves.
Thanks so much for visiting the All Creatures Great and Small blog, Margaret! What a stunning cover for your new book.  I can't wait to read it!  Let us know where it is available, so we can find a copy!