Author Veronica Heley and Midge the Cat
Guest blogger  Veronica Heley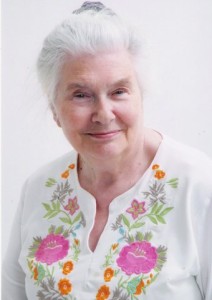 Our daughter longed for a ginger tom. Could the local Cat Rescue Centre oblige? Yes, they thought they might.
A shade of anxiety entered the voice at the other end of the phone line. 'Do we have any other pets?'
'No, we don't.'
'The cat's name is Midge. His present owners don't want to part with him, but they live in a flat, which is not suitable.'
Midge? What a delightful name. We imagined a sweet little pussy, darting a paw at passing butterflies. 'We have a cat flap, and a garden.'
'He, er, escaped from the flat and killed a pigeon. A valuable racing pigeon. The owner of the pigeon wants the cat destroyed, so we need to rehouse him today.'
Midge arrived in the arms of his owner, who was in tears.
Midge was no delicate flower, but a strong, well-grown cat with definite ideas about who was the head of the household . . . him. He worked the room, sniffing at everything, including shoes and chairs. He inspected the view from the windows. He tested the cat flap in the kitchen which, fortunately, we had taken the precaution of locking before he came.
He ignored his past owners, who departed, still in tears. He looked his new family over. He slanted his head at me. Food?  I obliged.
He indicated that he wished to explore the garden. I unlocked the cat flap. He disappeared, as did every bird in sight.
He reappeared in due course, laid a dead mouse on the doormat, making sure the head was towards the door, and the tail laid out straight behind.
More food. He inspected the bedrooms, selected my daughter's bed and went to sleep.
Unfortunately, Midge lived life in the fast lane and tried to stop a car with his head, which ended in tragedy. But I introduced him into Ellie Quicke's life in Murder by Suicide, and he's been a member of her household ever since.
He appeared as a logo on the cover of several books in this series . . . the latest of which is MURDER WITH MERCY .  . .
Here is an Amazon link for Veronica's new book!     Murder with Mercy (An Ellie Quicke Mystery)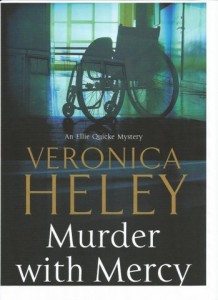 Murder With Mercy
Veronica Heley
ISBN 9780 7278 8281 3
Release date May 2013
. . . in which Ellie is asked to investigate whether some deaths in the community are exactly what they seem, while her pregnant, difficult daughter Diana is struggling to cope with work while her husband is in a wheelchair. What's more, sabotage at the big house nearby is being blamed on young Mikey, who is certainly up to something. Can Ellie track down whoever it is who is killing for mercy, keep Mikey out of the clutches of Social Services, and steer her difficult daughter Diana into calmer waters?
Publisher's Weekly.  ' . . . this rewarding cosy.'
Kirkus Reviews. 'Heley's 13th finds Ellie beleaguered but resolute as ever . . .'
 Booklist (Online) 'This is a pleasant read that's part British cozy and part women's fiction.'
Veronica Heley
www.veronicaheley.com
http://blog.veronicaheley.com/