Author Terri Reed, wild animals and her very own Simba!
Have you ever seen the Disney movie The Lion King?  Or maybe the Broadway play?
Then you know the main character is Simba, a young lion cub, next in line to be king of the Savanna.
Well, here in my house we have our own Simba.  A fifteen-pound Lhaso Apso/Bichon Frise mix.  He weighted three pounds when we brought him home from the breeders.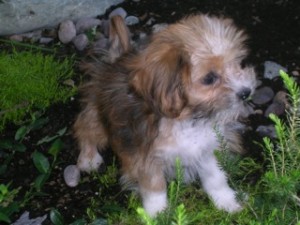 He could fit in the palm of your hand.  He was scraggly and wild and sooo adorable.  Still is.  He thinks he's king.  We have a big dog, an Australian Shepherd named Blueberry, who is sooo patient with this little dog.  Though when Simba came home to live with us, Blueberry didn't know what to make of him.
They eventually figured it out and are now best buds.
They are very protective of each other.  Which in our neighborhood is a good thing since one of our neighbors routinely has exotic wild animals come to visit.
My neighbor's sister owns and operates an exotic animal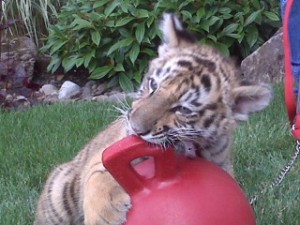 rescue.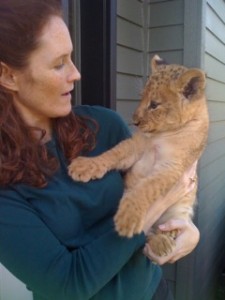 She has everything from snakes to tigers and bears.    In the past few years we've been privileged to pet a 13-week-old tiger and an eight-week-old lion.
How cool is that!  I much prefer my little Simba though.  He's not going to grow any bigger and his teeth aren't that sharp.
Note from Roxanne:  Terri has a wonderful new book out this month.  Read on!!
THE DEPUTY'S DUTY
Fitzgerald Bay: Law enforcement siblings fight for justice and family.
Love Inspired Suspense
June, 2012
by Terri Reed
Fitzgerald Family Secret…
As the eldest of six siblings and deputy chief of the Fitzgerald Bay police department, Ryan Fitzgerald is a protector.  Of his family.  Of his community.  But staying in control means keeping his distance…until Meghan Henry comes to town.  Seeking justice for her murdered cousin, and safety for an orphaned—and missing—child, the daring journalist is not afraid to face danger head-on.  And when she uncovers a dark Fitzgerald secret, Ryan's left with a devastating choice.  Which will he protect—his family, or the woman he's started to love?
Doesn't this sound like a wonderful book?  Terri  will be checking back here, so if you have any questions or comments, just fire away.
Thanks, Terri–for visiting this blog!
Roxanne