Rita finalist Missy Tippens, on Becoming a Grandmother
Becoming a Grandmother
By Missy Tippens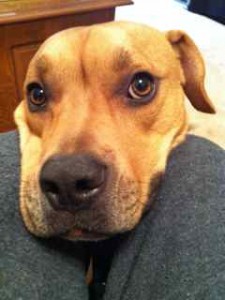 Yes, I know Roxanne features pets on her blog. So why did I title my post Becoming a Grandmother?  Well, because I now have a granddog! And I'm absolutely crazy over him. His name is Tucker, and we've been enjoying dog-sitting for the last two weeks.
Tucker has really been a blessing. The first time we had him with us for an extended visit, our 13-year-old lab named Libby passed away. Our 11-year-old dog Duke had been with Libby since we brought him home as a puppy. He always stood at the door and whined anytime Libby was
gone (on a walk or to the vet). I feared for Duke and how he would react to losing her.
But Tucker was here to help with the grief, to keep us all busy, and to help ease Duke into life without his constant companion. I truly think Tucker helped prevent the depression some animals can suffer when they lose another pet they're close to.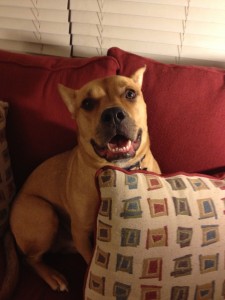 So now we have Tucker in our lives. My son, who lives 2 hours away, got Tucker from a pit bull rescue, and he's the sweetest, most precious thing! I'm now officially a picture-toting, doting grandma. 🙂 I can't begin to imagine what a joy it's going to be to have human grandbabies someday!
Thank you for indulging me and letting me share a few photos today. Do any of you have grand-dogs or cats? Or do you have a new pet you'd like to talk about?
We all just heard on Tuesday:
MISSY IS A  FINALIST IN THE INSPIRATIONAL CATEGORY of the Romance Writers of America Rita awards!  Being nominated for this national award is a tremendous  honor–think of it as the Oscars and Academy Award of writing!    And Missy's latest book is available now!
Georgia Sweethearts
Love Inspired
April 2013
by Missy Tippens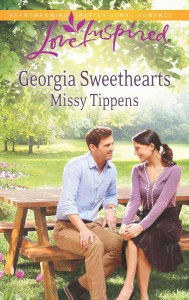 A Pattern For Love…
After inheriting her great-aunt's failing yarn shop, Lilly Barnes is determined to make it a success. All she wants is stability, something she doesn't think possible in the small town of Corinthia, Georgia. Then Pastor Daniel Foreman rents space in her store to hold meetings for his growing congregation, and this proves to be her lifeline. At first Lilly wants nothing to do with Daniel's big dreams, but she soon finds herself starting to share his goals. Yet trouble between her customers and his congregation make them both doubt the path they're on. That is, until practical Lilly shows him that love is a risk worth taking.
4 Stars from RT Book Reviews      "…Tippens imperfect and charming characters learn to lean on God for direction and to use their hurt to help others."
Find her book at:
Harlequin.com
Amazon
Barnes & Noble
DeeperShopping.com
Available for Pre-order:  Christian Book
Missy Tippens, a pastor's wife and mom of three from near Atlanta, Georgia, made her first sale to Love Inspired in 2007. Her books have since been nominated for the Booksellers Best, ACFW Carol Award, Gayle Wilson Award of Excellence, Beacon Contest and RT Reviewer's Choice Award. Visit Missy at www.missytippens.com.