A strange visitor…who won't leave!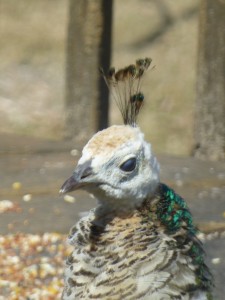 A week ago, I went out to do my horse chores.  Came back inside for breakfast.  Opened the sliding glass door curtains in the kitchen–and found a truly unexpected visitor staring at me:  a peacock!
Or, to be more precise, a peahen.  Not so glamorous as her male counterparts, mostly white and gray, but with some iridescent green and blue feathers at the back of her neck and the funny little row of feathers on top of her head.
Assuming she was someone's beloved pet–as there are no wild peacocks here in Iowa–I first tried to catch her, but she quickly marched to the far end of our deck and hopped up on the railing, ready to flee.   I hoped to keep her temporarily safe, so I backed away and began calling neighbors.  Sure enough, she had been purchased by a woman who lives a half-mile away…who'd intended her as a mate for her lovelorn male, Reggie.  This gal apparently wanted nothing to do with the life of raising little peacocks, so she literally flew the coop and has resisted all efforts to catch her…as well as the faint, haunting calls of that male peacock that echo across the valley between our house and her owner's place.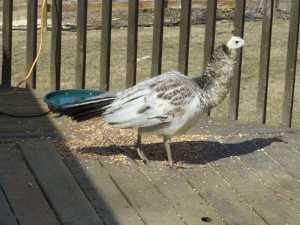 Since she has apparently decided this is her new home, I've started calling her  Mable.  Mable spends her nights at the very tops of the trees in our yard, and looks like a big turkey up there.  When she flies up to roost, she's  like a slow, heavy B-52 taking off.  By day, she peers in our sliding glass doors–perhaps admiring her reflection, or imagining that the reflection is another peahen.  She also stands on our garage roof so she look  into our kitchen through a set of high windows (see the photo above.) She pecks on the glass with a rat-a-tat, eats from our bird feeders, but still can't be approached.  I feel so sorry for her today, out in the rain.  I wish she would go home to her nice dry coop!
Anyone have some ideas on catching a flighty peahen? 🙂