Explosive Secrets, Valerie Hansen, and bomb sniffing dogs.
by guest blogger  Valerie Hansen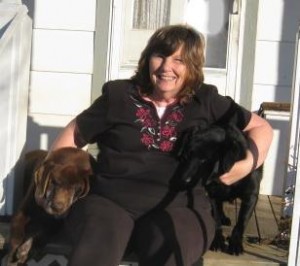 I used to raise purebred Newfoundlands and love the breed dearly, but now that I live in the Ozarks of rural Arkansas, that dense coat is impractical – for me and for the dogs – so I've begun adopting rescued Labrador retrievers. What a joy! And a challenge, since the ones I've brought home have been traumatized.
That's actually one of the emotional problems I had to deal with when writing the bomb-sniffing dog in EXPLOSIVE SECRETS, my Love Inspired Suspense in the "Texas K-9 Unit" series. I felt so moved while putting that book together, I went out and adopted another lab. That poor little thing didn't even have a name, let alone any TLC while growing up, so she was afraid of everything when I first brought her home.
But I'm getting ahead of myself. My first lab was a year-old chocolate male who supposedly had a name but didn't recognize it, so I started calling him Charlie Brown. He sure acted like the comic strip character. What a clown. And how he needed love.
When I got him his jaw was broken and healing crooked, he was afraid of anyone's feet and long objects like a baseball bat, and there was a wide, bare scar running down the middle of his back from his shoulders to his tail. That never did get hair on it so in the summer I do a comb-over on his butt! Really.
 Charlie and I bonded immediately but training took a bit longer. (as you can see from the upset pots on the floor in one of these photos.) He was as wild as a 75 pound pup and his idea of play was to grab my clothing and yank until it tore. Yet, within a few months, he was doing much better and has turned out to be a real gentleman at the age of 14.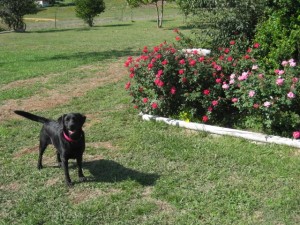 When we brought two-year-old Lucy home she feared everything except old Charlie, which was a real boon to all of us. She had no name, either. Naturally, since it fit with Charlie Brown, I started calling her Lucy. The wise old dog taught her the boundaries of the property and she caught on quickly. As for her fear, it's slowly dissipating, although she's still afraid of shooting and other loud noises.
Now, though, instead of running away, she heads straight for me or the house looking for protection from the big, bad world. While I'm working she lays mostly under my desk, giving my ankles a lick once in a while as if to thank me for providing sanctuary.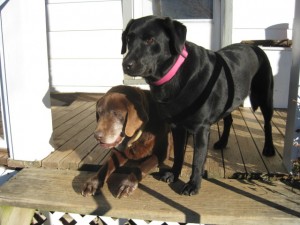 Because I needed to keep Lucy close while I was winning her trust, she and Charlie both got to spend a lot of time in the house, a practice which has continued and pleases us all. They also walk with me in the pastures and woods behind the house, yet always keep me in sight so I don't have to worry about watching them. I taught them to do that by hiding a few times. After that, they began watching me so closely I can't escape!
Together, we go out every morning to feed a couple of feral kittens that live in an old abandoned cabin on our property. I've managed to gentle one of them enough to let me pet it but I'm still working on the other. Charlie, however, stands very still and those kittens rub against his front legs as if he was their mama.
EXPLOSIVE SECRETS
Love Inspired Suspense
Valerie Hansen
April, 2013
In EXPLOSIVE SECRETS, Nicki Johnson is pregnant, all alone, and the target of murderous thugs through no fault of her own. Former soldier and K-9 officer Jackson Worth and his bomb-sniffing dog, Titan, come to her rescue more than once. Moved by her plight, Jackson vows to stand by this beauty and her unborn child no matter what. Because it's the right thing to do. And because guarding her has left his battle-scarred heart open to the possibility of love. Which changes everything.