A cat named Raisin, and author Alison Stone
What's in a name?
by guest blogger Alison Stone
The other day I was "Face-Timing" with my adorable 2 year-old niece. For those who may not know, Face-Timing is video chatting over the iPhone. It is very Jetson-like, if you ask me. And very cool if you live out of town, like my niece.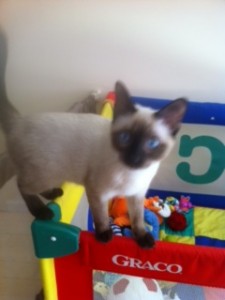 As we were chatting, a beautiful Siamese kitty elegantly hopped onto the shelf behind her and strolled across the screen. Until then, I didn't realize my brother and sister-in-law had adopted a new pet. I asked my niece what her kitty's name was and she proudly said, "Raisin."
I smiled. My brother told me that when they were discussing names, my niece was in the backseat of the car. She suggested Raisin and Babybel.
The family liked the name Raisin, only to later realize my niece was hungry and suggesting snack ideas, not kitty names.  But her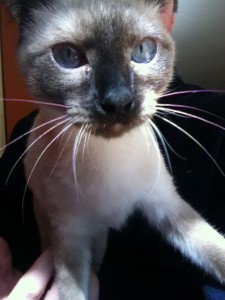 parents decided to stick with Raisin. And now they have a fun story on how they named their beautiful cat.
I always like the story behind a name, human or pet. Years ago, I was kicking around the idea of naming my firstborn Casey. I didn't share the name with anyone. While I was pregnant, my sister adopted a puppy. Yep, you guessed it. She named him Casey. Needless to say, none of my children share the dog's name.
A friend of mine recently told me a great story. When she first got married, she and her husband adopted a dog and named it Molly. A few years later, she had a daughter and still loved the name. She boldly decided to name her daughter Molly and changed the dog's name to something else. I love this story. It makes me smile.
Naming characters in a book can be interesting, too. Before I was published, I picked names, including last names, of people I knew to populate my books. As soon as I realized a book was going to be published, I changed most of the names. There are a few exceptions however. I named a character in my latest book to be released in print, Random Acts, after my sister Lisa.
I named the heroine in my current work-in-progress after my niece, Lily. I hope to show it to her on the bookstore shelf someday.   Hmmm? Maybe I'll give fictional Lily a cat named Raisin.  🙂
Bitter experience left Danielle hesitant to open her heart. When a family crisis brings her home, the hard-nosed attorney is forced to face the man that let her get away. And that her sister's accident was staged to mask a beating.
Though Patrick guards his heart, seeing Danielle again reignites their old flame. But no way will he bring her into his daughter's life, not when her values on faith and family are so different from his own. Yet they must work together to bring a criminal to justice before everything is destroyed—including their second chance at forever.
Originally released in eBook format only, is now available in print.
Links for Random Acts:
Amazon: http://www.amazon.com/Random-Acts-ebook/dp/B00795G1X4/ref=tmm_kin_title_0?ie=UTF8&qid=1362254466&sr=8-2
Barnes & Noble: http://www.barnesandnoble.com/w/random-acts-alison-stone/1108890294?ean=9781609289386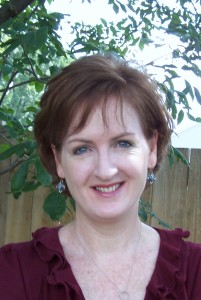 ALISON STONE writes romantic suspense for Harlequin Love Inspired Suspense and Samhain Publishing. Her debut novel, Random Acts, was a finalist for the prestigious Daphne du Maurier Award in the unpublished inspirational category. Alison lives in Western New York with her husband of over twenty years and their four children, where the summers are absolutely gorgeous and the winters are perfect for curling up with a good book—or writing one. Besides writing, Alison keeps busy volunteering at her children's schools, driving her girls to dance, and watching her boys race motocross.
Website:www.AlisonStone.com.
Twitter: https://twitter.com/Alison_Stone or @Alison_Stone
Facebook: https://www.facebook.com/AlisonStoneAuthor
Blog: http://alisonstone.wordpress.com/