Author Leigh Bale Blogs about Wild Horses
by guest blogger Leigh Bale
Read on to the end, for a chance in a drawing for a FREE BOOK!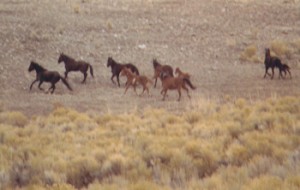 Howdy from Nevada!  Today, I'd like to chat about wild mustangs.  I have a new book available from Harlequin Love Inspired titled HEALING THE FOREST RANGER.  The story is centered around the wild horses that live and run free here in Nevada.  I've tried to tackle a very difficult issue about whether or not the wild horses should be rounded up and moved off the land when they become too numerous to support their herds with food and water.  The heroine is a forest ranger who loves the horses, but views this dilemma from an ecological perspective.  The hero is a medical doctor and former prisoner of war and a wild horse advocate who thinks the mustangs should be left alone.  The horses serve as a metaphor for the struggles the main characters are dealing with in their personal lives.  A very poignant read I hope you'll enjoy.
My father is a retired U.S. forest ranger.  When I was young, he'd take me with him to go out and check on "his wild horses," as he called them.  The picture below shows the mustangs living around Cherry Creek, Nevada.  One time, we got between the stallion and his herd of mares.  He was furious with us.  He screamed, reared, and charged the truck.  I was very glad to be safely inside with metal doors to protect me.  We quickly moved out of the way, but I'll never forget the wild beauty of that stallion.  The opening scene to my new book is based on that encounter.
Did you know you can adopt a wild horse?  The Bureau of Land Management can assist you with this endeavor.  If you aren't able to adopt, you can get involved in many other ways.  Check out their website for more information.
That said, I'd like to randomly give away several copies of this heart-warming new book today.  What is your favorite color for a horse?  Have you ever ridden a horse before?  Do you own a horse?  Do you like horses?  (There is no right or wrong answer to these questions.)    🙂
Here's a link  to the BLM's wild horse adoption program:
http://www.blm.gov/wo/st/en/prog/whbprogram.html
And here is Leigh's latest book!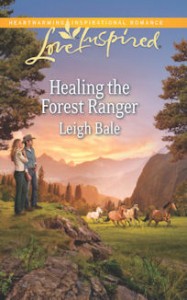 Healing the Forest Ranger
Love Inspired Books
Leigh Bale

Rancher to the Rescue ~ When a wild mustang threatens someone's life, rancher Cade Baldwin springs into action. But he's not pleased when he sees the beautiful woman he's saved is the town's new forest ranger. Lyn Warner is determined to round up the wild horses Cade loves so much. But she's also the woman who makes him smile like no one else. After her husband died in a car crash, Lyn turned her back on her beliefs and focused all her attention on her injured daughter. But Cade's strong faith and steady love might be exactly what they all need to create an unbreakable family.
Leave a comment or a question for Leigh, and you'll be automatically entered in a drawing for a copy of her new book!!