Celebrities at the Buffalo Zoo…author Alison Stone
Celebrities at the Buffalo Zoo: Luna and Kali
By guest blogger Alison Stone
On May 31st, I had the pleasure of chaperoning my 8 year-old daughter's class trip to the Buffalo Zoo. When we arrived, each group was free to explore. The other mom who had volunteered to chaperone had insisted we find Luna, a polar bear cub, right away. We had been warned that Luna was only out for limited viewing. So while all the other kids and their chaperones stopped to admire the elephants and the anteaters, we weaved through the zoo and found the exhibit in a far corner.
Much to our delight, both Luna and Kali, polar bear cubs, were out playing. Other than the zoo employees, we were the only ones there. I snapped a few photos of the frolicking polar bear cubs and their smiling visitors. Little did I know, I had just photographed the most famous residents of the Buffalo Zoo.
And perhaps the most famous polar bear cubs in the United States.
The very next night, I turned on NBC Nightly News to hear Lester Holt talking about the "unbearably cute" debut of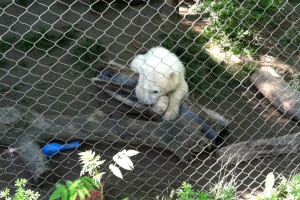 Luna and Kali playing together! These two cubs had only been introduced to one another that week. Luna had been born in captivity at the Buffalo Zoo and Kali was sent via UPS from Alaska after a hunter killed his mother. Kali was shipped to Buffalo and arrived on May 15th so he could have a polar bear buddy.
The Buffalo Zoo is currently raising funds to build a more permanent habitat for its most popular residents. From what I understand, Kali will eventually be moved for mating purposes. Hopefully, Luna will have a long stay at our zoo.
I grew up in Buffalo and I think I've taken our zoo for granted. The story of Luna and her new buddy, Kali, have brought attention to polar bears not only at the Buffalo Zoo, but in the wild.  The Buffalo Zoo continues to educate its visitors, including how climate change affects animals in the wild. Perhaps through education, we'll change our behaviors to protect all God's creatures.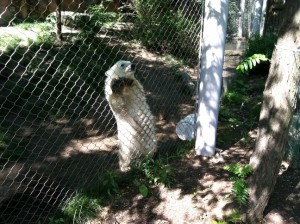 I definitely plan to sign up for a Buffalo Zoo membership. I want to take my daughter to the zoo often so we can keep track of Luna and Kali's growth.
Do you have any local zoos, nature preserves, or wildlife centers in your area? Have you visited them lately? I'd love to hear from you in the comments section.
To one random person who comments, I'll give an eBook copy of my latest release, Plain Pursuit, from either Amazon or Barnes and Noble. (US Residents only)
Check out the link to NBC Nightly News footage of Luna and Kali: http://www.nbcnews.com/video/nightly-news/52070467/#52070467
More information on Buffalo Zoo: http://www.buffalozoo.org/
BIO:  Alison Stone left snowy Buffalo, New York and headed a thousand miles south to earn an industrial engineering degree at Georgia Tech in Hotlanta. Go Yellow Jackets! She loved the South, but true love brought her back North.
After the birth of her second child, Alison left Corporate America for full-time motherhood. She credits an advertisement for writing children's books for sparking her interest in writing. She never did complete a children's book, but she did have success writing articles for local publications before finding her true calling, writing romantic suspense.
Alison lives in Western New York with her husband of twenty years and their four children where the summers are absolutely gorgeous and the winters are perfect for curling up with a good book–or writing one.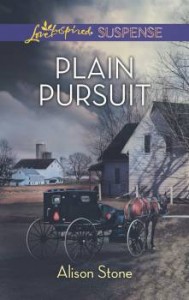 Random Acts and Too Close to Home were released by Samhain Publishing in 2012. Plain Pursuit, a Harlequin Love inspired Suspense, is available now.
Besides writing, Alison keeps busy volunteering at her children's schools, driving her girls to dance, and watching her boys race motocross.
Find Alison at the following sites:
Website: http://www.alisonstone.com/
Facebook: https://www.facebook.com/AlisonStoneAuthor
Twitter: https://twitter.com/Alison_Stone
Blog: http://alisonstone.wordpress.com/
Plain Pursuit:
Danger in Amish Country
When her brother is killed in a small Amish town, Anna Quinn discovers she's an unwelcome outsider. But the FBI agent investigating the case is right at home—because Eli Miller was born and raised in Apple Creek's Plain community. Eli left his Amish faith behind long ago, but his heart is rooted in a local cold case he can't forget—a mystery with strange connections to Anna's loss. Desperate to uncover the truth, Anna and Eli are faced with stony silences and secrets…secrets that someone wants to keep buried in the past.
Amazon link: http://www.amazon.com/Plain-Pursuit-Inspired-Suspense-ebook/dp/B00BAT1P2M/ref=sr_1_1?s=digital-text&ie=UTF8&qid=1370905008&sr=1-1&keywords=Alison+Stone
Copyright © 2013 by Harlequin Enterprises Limited
Cover Art used by arrangement with Harlequin Enterprises Limited