Happy holidays!
In whatever way you celebrate your faith's traditions at this time of year, I wish you my very best for peace, good health, and happiness.
A white Christmas seems a bit doubtful this year here in the Midwest, but dusk is already falling at 4:30 pm and a cold wind is blowing today. It's a perfect time of year to curl up with a quilt, a wonderful cup of hot chocolate (look below for a great recipe), and a good book. At the end of this message you'll find lots of bargains for those!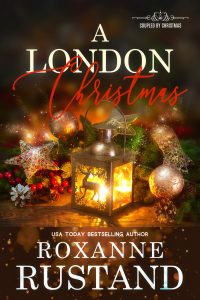 Do you enjoy Christmas fiction? I had a great time writing my six-title Coupled by Christmas series, and they are just $.99 each! Here are the titles, with links to check them out. They can be read in any order.
To see all of the covers at once, scroll down my homepage at www.roxannerustand.com.
The Mistletoe Puppy
A London Christmas
A Montana Christmas
A Scottish Christmas
An Irish Christmas Blessing
Christmas in Paris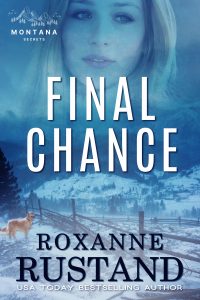 I'd also like to share a link to the book I released in November.
FINAL CHANCE is the second of five novels in my Montana Secrets series, which will all be released by early spring. They can be read in any order. CLICK HERE for the Amazon link. Here's a quick blurb:
Arson. Attempted murder. And Kris Donaldson is the prime suspect. Why won't anyone believe she's innocent?
After years on the run from an abusive ex, Kris receives an unexpected inheritance, an acreage in the Rockies near a small, quaint mountain town. It's her dream come true–a chance to establish an animal rescue and finally lead a peaceful life. Perhaps there's even a chance of forever-after with the intriguing rancher next door.
But her dreams might just prove fatal.
Here are the contest winners from my late November newsletter & blog post:
The questions were about Thanksgiving foods and memories. Here are the winners. To claim your prize, an e-copy of ONE MORE KISS, click Contact Me at my website: www.roxannerustand.com.
1. Sunnymay
My favorite food at Thanksgiving is leftovers. I like to make a turkey sandwich using bread, turkey, a thin layer of mayo and lettuce on one side, on the other side is jellied cranberry sauce. Growing up, Mom always dropped the turkey trying to get it out of the oven and out of the pan, so it pretty started carving itself. The dog and cat were very interested.
2. Madie
While I enjoy several of the foods, Thanksgiving is often the only time of the year we have stuffing, so I pretty much eat as much as I can. My favorite Thanksgiving memory is our first one after we adopted 2 cats. We figured out quickly how to keep our cat who couldn't jump from getting on the table, but we all spent the entire meal keeping our athletic cat from getting at the dinner.
3. Michelle
My favorite Thanksgiving foods are my Auntie Marg's Cranberry Relish, Baba's Kolache and Grandma's Pink Delight Desert. My favorite memory is when we would gather at Grandpa and Grandma's house with aunts, uncles and cousins galore. (Mom had 4 brothers and a sister). There would be tables set up in the living room even.
THE NEW QUESTIONS IN THIS DECEMBER, 2021 NEWSLETTER:
What are your favorite foods at Christmas, and do you have a favorite memory from Christmases past?
To write a comment or answer,  scroll down  to the Comment section.
The winners will receive a free copy of one of my Christmas novellas, winner's choice. See the titles and links above for more information on them.
**Note: if you send answers to my questions of the month, be sure to check the next month's newsletter to see if you are a winner!
HERE IS AN EASY HOLIDAY RECIPE – FRENCH HOT CHOCOLATE!
In May of 2018, I took our daughter to Paris for two weeks. She'd been married six years, and though I've always taken her with me to author conferences, I thought this could be our last big adventure before she and her husband might want to start having a family. I told her that I would pay for the trip, but she needed to search for bargain flights, a bargain hotel, and come up with a detailed plan for how we could see and savor as much as possible during our stay.
She and I both love, love, love museums and all things related to history, so she came up with a wonderful day planner on an Excel spreadsheet including bargain museum passes that helped us avoid long lines. It was an incredible trip, and I would go back in a flash if I could!
One of our stops for a special treat was at Angelina's, a completely charming café where we had yummy French pastries and small cups of le chocolat chaud (French hot chocolate.)
Oh, my, goodness. Thick and rich—it was nothing like the thin, milky hot chocolate we'd always had back in the USA. Since then, we've searched for a similar recipe and finally found several recipes that, when combined, tested, and tweaked, fit the bill. I think this nails it, and it is so simple! Enjoy!
Oh—and by the way, Emily's dream of starting a family will be born any day. Gramma is excited!
FRENCH HOT CHOCOLATE
1 cup milk (1%, 2% or whole)
1 cup unwhipped whipping cream     (+ 1 cup more for whipped topping)
2 tsp. Splenda, other artificial sweetener, or sugar
8 oz. bittersweet chocolate bar chopped, or choc chips**
** Use the best quality bittersweet chocolate you can find, approximately 70%,for the most authentic flavor
Semi-sweet chocolate can be used (best quality =  best result)
Bar chocolate melts smoother and more easily than chips, though both will work.
Directions:
Over medium heat, blend the milk and cream in the tallest stainless steel saucepan until it just starts to simmer (not the short one or it goes over.) Do not let it boil.

Take pan off the stove and stir in the chocolate and sweetener until mixture is completely smooth, then return to stove over very low heat until it becomes a very silky, thickened consistency. 

Serve hot in small cups, as it is very rich, topped with mounds of sweetened whipped cream.

Cold, it firms up to a silky pot du crème that can be eaten with a spoon, but one made without the egg yolks. Yum!
Or, reheat for hot chocolate.  Keeps for days covered in the refrigerator.
Optional ingredients for the hot chocolate: ½ tsp of either mint flavoring, vanilla, or even expresso powder—which intensifies chocolate taste.
Optional toppings on the whipped cream: crushed candy canes, chocolate sprinkles
My experiment with almond milk for a lower carb version resulted in a thinner result, like American hot chocolate, that did not thicken and had an off-taste.
Look below for my gift to you—links to SIX ONLINE BOOK FAIRS!
I love sharing these opportunities with you every month.
Click on each link to find free and bargain books—some by me, and perhaps some by your favorite authors. Who knows? You might also find a new, all-time favorite author by clicking on these links!
Wishing you all a wonderful holiday season!
Roxanne Rustand
1. SWEET CHRISTMAS ROMANCE BOOKS
2. CLEAN CHRISTMAS SMALL-TOWN ROMANCES
3. DECEMBER CHRISTMAS ROMANCES
4. 99c FIRST IN CHRISTMAS SERIES – SQUEAKY CLEAN
5. CLEAN ROMANCE SALES PROMOTION
6. CUDDLE UP WITH A COWBOY: SWEET, CLEAN COWBOY ROMANCE READS