And They Called it Puppy Love…by author Valerie Comer
Guest blogger Valerie Comer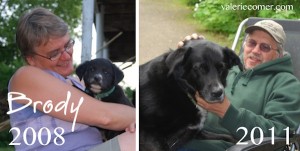 There's nothing like life with a pup. When Brody was little—a hundred pounds or so ago—I was certain the two or three brain cells he certainly must have never even bumped into each other in the cavern inside his skull. Talk about a dog letting his nose—or whimsy!—lead him.
He was supposed to be much smaller. His black Lab momma weighed about forty pounds, and her people thought it was a Border collie that found his way to their farm. We thought that would make for a nice midsize intelligent pup. I will now pause for the laughter to subside.
During Brody's first few months, I began working on a series of books that morphed into the Farm Fresh Romance series (of which the second title, Wild Mint Tea, has just released). A bumbling Border collie puppy named Domino became instrumental to bringing my first couple, a veterinarian and an environmentalist farmer, together in Raspberries and Vinegar. The working title up until signing the contract, in fact, was Domino's Game. Many of Domino's adventures came from watching Brody's antics.
Domino makes several appearances in Wild Mint Tea as well. But like Brody, he grew up a bit over the year or so between the books, and his intelligence began to show. The heroine of Wild Mint Tea is a fastidious chef who isn't keen on animals, especially in the house, and the hero owns a reforestation company and travels nearly all the time, so neither has pets.
I can't imagine a pet-free home, myself. In our nearly 34 years of marriage, a dog or a cat has nearly always been at our feet or in our laps. At the moment we have Brody, who is six and over a hundred pounds now. Yes, he still climbs into my husband's lap on occasion!
We also have a pair of calico cats to snuggle and keep the grandgirls entertained. Moxie and Coonie are four years old and get along better than most sisters I know. My life would be far less complete without all these furbabies in our home. I'd have less to trip over and wouldn't have to vacuum as often, but what kind of trade-off is that?
My Farm Fresh Romance books http://valeriecomer.com/series/farm-fresh-romance/ are a unique farm lit series following the adventures, romantic and otherwise, of three college graduates who move onto a reclaimed farm where they plan to take the rural area by storm with their sustainable lifestyle and focus on local foods.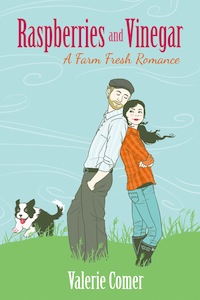 Raspberries and Vinegar http://valeriecomer.com/books/raspberries-vinegar-farm-fresh-romance-farm-lit/ released in August, 2013, and is the story of a feisty environmentalist and local-foods advocate who falls for the junk-food-loving reluctant farmer next door (and with his bumbling puppy).
If you'd like a 40-second long grin, watch this trailer created by my cover designer!    http://youtu.be/9Gus85lL5kc