There was a Wocket in my Pocket! Julianna Deering
Guest blog by Julianna Deering
I will never forget the first time I saw little Elizabeth.  She and her brother and sister had been born just a few days before, and even for new kittens they were especially tiny.  They were living in a barn and it was getting to be the hottest part of the summer, and in Texas that means really hot.  When the people who owned the place decided they needed to give the kittens away, I knew I had to have Elizabeth.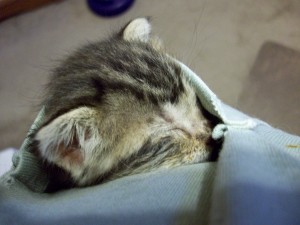 She was only 4 ½ weeks old then, and still very tiny.  I knew I would have to bottle feed her until she was old enough to eat kitten food.  I also realized that she didn't want to be left alone even for a moment.  If I wasn't holding her or letting her sleep on me, she would shriek!  So unless I was feeding her, I let her sleep in my t-shirt pocket.
When she got too big for a regular pocket, I took an old t-shirt and cut off everything but the front and the collar.  Then I folded the bottom of the front up and sewed along each side, making a bigger pocket that I could wear around my neck.  Little Elizabeth slept in that quite happily until she was about eight weeks old.  Then, quite abruptly, she decided she was a big girl and didn't want to sleep in it anymore.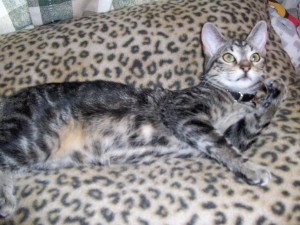 I rather missed having my baby always there, warm against my heart, but I suppose they all grow up.  She's three years old now and still tiny.  She's not my little pocket wocket anymore, but she does cuddle up close to me when we sleep, and that's a fine thing.  I don't know what I would do without her.
..
..
about Julianna's newest book release!
.
Drew Farthering loves a good mystery, although he generally expects to find it in the pages of a novel, not on the grounds of his country estate. When a weekend party at Farthering Place is ruined by murder and the police seem flummoxed, Drew decides to look into the crime himself. With the help of his best friend, Nick Dennison, an avid mystery reader, and Madeline Parker, a beautiful and whip-smart American debutante staying as a guest, the three try to solve the mystery as a lark, using the methods from their favorite novels.Soon, financial irregularities at Drew's stepfather's company come to light and it's clear that all who remain at Farthering Place could be in danger. Trying hard to remain one step ahead of the killer–and trying harder to impress Madeline–Drew must decide how far to take this game.
.
Where to buy:
Amazon:  http://www.amazon.com/Rules-Murder-Drew-Farthering-Mystery/dp/0764210955/ref=sr_1_1?s=books&ie=UTF8&qid=1373480537&sr=1-1
"Julianna Deering pulls readers into an enthralling mystery that will satisfy the most ardent Agatha Christie fan."  –
-Nancy Mehl, author 
Website: 
www.juliannadeering.com

  and  www.deannajuliedodson.com
Facebook:  https://www.facebook.com/AuthorJuliannaDeering