From Condemned Dog to Story Star!
Guest blog  by Genie Gabriel, author
I've always loved dogs. Fur against my face and the soft smell of a dog curled protectively around me existed before my first memories of this life. My mom tells stories of me as a toddler, sleeping with my head pillowed on our Collie's belly.
After I graduated from high school, I moved to the city to claim a job and my own life. For about a year I moved from apartment to apartment, rediscovering my life wasn't complete without a dog. My search for furry companions found results in a variety of sources–a neighbor's litter of puppies, a stray dog my parents found and, finally, I discovered shelter dogs.
My first shelter dog was a Border Collie. His golden eyes mesmerized me, and I knew instantly he was smarter than most people. However, my heart ached because I couldn't take every dog home with me.
Over a progression of many years, I volunteered at the shelter, became an employee at the shelter, and even tried being a doggie foster parent.
My greatest strength and biggest challenge was becoming emotionally attached. Sounds like writing a character in a book, doesn't it? Loving a dog  was easy. Then came the tough part. Letting my foster babies go brought many tears and prayers their new families would keep them furever.
After I realized fostering wasn't a good fit for me, the Universe showed me another way I could help–by taking dogs who would have otherwise been euthanized.
This included a Cocker Spaniel I renamed Rascal. He had been adopted, then brought back to the shelter for biting. I saw him when he was returned to the shelter–he snapped at our intake worker. After a day in the shelter, he settled into being a happy dog again. Then I realized he really was the same dog I had connected with months earlier when I picked him up from his neuter appointment.
However, with his history of biting, his chances of being adopted were slim to nothing. He had three paws in the euthanasia room when I asked the kennel manager to give me a few days with him.
From the first night, he slept on my pillow. Though he got along well with the other dogs, he was terrified of most everything, and it was obvious he had been abused. When he became terrified, he started wildly snapping at everything and nothing.
However, it wasn't me who helped him the most, but one of my other dogs, a Shepherd/Lab mix. Whenever Rascal panicked and started snapping, Stewart stood over him and put him in a head-lock between his front legs. In that position, Rascal couldn't hurt anyone and finally wore himself out and realized he had nothing to fear but his memories.
Though it took a bit of time, Rascal gradually became one of my most mellow dogs. He's now been part of our pack for over five years and is featured in my latest romantic comedy novella, NO MORE POODLE SKIRTS.
So what's my next doggie adventure? I'm currently writing a nonfiction book about my life with dogs that I plan to self publish. I'm hoping it will sell well enough to help fund some acreage for an expanded dog sanctuary where my furbabies can chase smells all day, then enjoy a home-cooked meal before settling in front of the fireplace for a nap.
Do your dreams include dogs?
And here's her new book release!!
No More Poodle Skirts


Genie Gabriel
Rogue Phoenix Press
Release date: May 2013;
released as a break-out novella in July 2013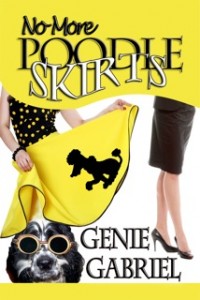 To purchase, click here. No More Poodle Skirts
After drifting for years in the innocent age of the 1950s, a woman struggles to join today's world by finding a career and a new love, with some help from her zany family.
"You will have fun with the quirky characters and the way they work together to find Happy Ever Afters…" –It's Raining Books