Small town celebrations: there's nothing like a parade!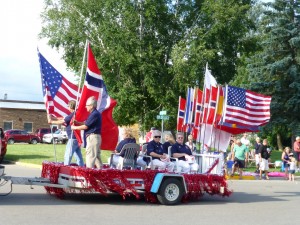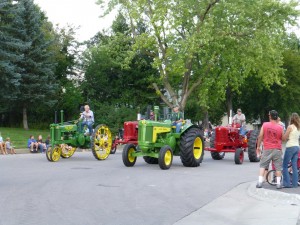 This summer we headed up to NW Minnesota for my husband's high school reunion.
It was actually an all-school reunion, as in smaller towns the classes often aren't all that large, though  most of the classes  scheduled  individual gatherings for their given year.
Larry had never been to one of his reunions, and it was such fun seeing him connect for these old friends and acquaintances!
The reunions were scheduled on a weekend when the town has its annual celebration and parade, so we were there for those festivities as well.  What fun it was!
Small towns have the most amazing parades!  The population of this town is only 1,200 people –in fact the population of the entire, very rural county is less than 6,000–yet the parade included 100 units. A marching band, and floats and horses, and a dozen Shriners in their zippy little cartoon cars, whizzing around in dizzying routines.  Fire trucks from the surrounding towns, polished up for the occasion, along with shiny tractors and old time cars.
The draft horses and wagon in the photo belong to Corey's Belgians, and appear in lots of the local small town parades each summer.  That's my sister-in-law and her husband up in the wagon.  What fun!
The parade was small-town America at its best.  Colorful, joyous, entertaining, with crowds lining the streets.   The children are always so excited at these parades—awaiting all of the wrapped candy being tossed out into the crowds.
What summertime events do you enjoy?  Does your town have special events each year?  What do you remember from your childhood?