ONE MORE DANCE, a new release, and a chance for prizes!
How did you fare over the winter? Are you seeing signs of spring where you live?  Our record-breaking cold and snowy winter is (hopefully) a thing of the past, and we're actually seeing bare ground!  Even the peacock is revving up for spring. He has been growing out his plumage and struts around the barnyard with his long, beautiful tail feathers raised in full display. Not quite so lovely is his ear-piercing mating call, which sounds like a woman screaming for help.  J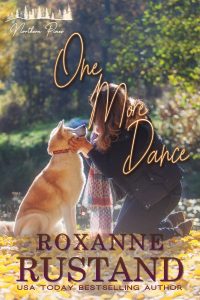 Page down for info on ONE MORE DANCE, a chance to win prizes, a favorite family recipe, and news of a good friend's latest book release!
How badly can a relationship be broken before there's just no chance to save it?
When veterinarian Kate Mathers drives past the scene of a terrible accident and sees two ambulances race away, she whispers a prayer for those involved, not realizing that it's her husband's car in flames down in the ditch, and that a woman in the car with him was killed—a complete stranger. And now Jared is in the ICU on the verge of death, and only a miracle can save him.
She's at his bedside, trying to face his precarious situation and also deal with the fact that someone is targeting both her husband and her veterinary practice, and wondering how the most perfect, joyous marriage could have gone so wrong. Or did it?
If only they can have one more chance to talk and to forgive, and one more dance in each other's arms…
ONE MORE DANCE  is a clean and wholesome, full-length contemporary romance mystery. It's available right now for just $0.99  at all e-book retailers.
For more information or to buy, click on the BOOKS tab along the horizontal bar above this blog post.
Here is my question of the month…and your chance to win prizes in my drawing! 
After ONE MORE DANCE, there are four more books coming out in my Northern Pines during 2021, and they need covers! Which cover styles attract you the most?  A setting, such as charming little cottage in the woods, or the mountains, or the seashore, or do you prefer either a hero or heroine alone on the cover? Or…maybe both of them?
Leave an answer or a comment at the bottom of this blog post to be entered in drawings for a free e-copy of SNOWBOUND WITH THE COWBOY or a $10.00 Barnes & Noble gift card  (two separate winners.)  Good luck!
Here are the answers from last month's winners, who can click CONTACT  to receive their prizes. Be sure to put "WS newsletter winner" in the subject line. Thanks!
Colleen C:    Favorite memories… waiting by the window and watching for my grandparents to arrive. When I saw them I was filled with such happiness. I would run to the door to open it for them and it was the best feeling on Earth to get a hug from them.
Food, we always have pumpkin pie from my grandma's recipe and make M&M cookies together.
Happy Holidays!
Pat S:         My favorite memory of Christmas was the year the whole family got together and rented a cabin in Colorado Springs. The snow was perfect even if my skiing was not! My brother arranged a wagon ride to a huge tent in the snow that served grilled steak and fixings served while people performed music and we sat on hay bales at plank tables. We also went to hot springs that even had waterfalls, oh my, what a wonderful celebration!
We always start baking on Thanksgiving weekend while we decorate the tree and house. Christmas movies are playing (starting with White Christmas) and our hearts are happy. After all, we are celebrating the birth of Christ!
Here is my family recipe of the month. All of us love this, because it's yummy and it works for those of us trying to follow a keto diet. If you skip blending in the whipped cream to make it a mousse instead of a pudding, it's also low fat!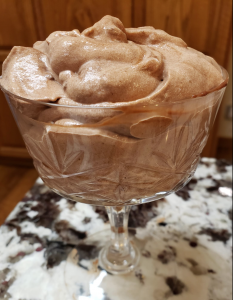 Keto Chocolate Pudding (or Mousse)
2 cups almond milk
1/8 tsp salt
1/4 cup + 1 Tbsp Dutch process cocoa powder (unsweetened)
1/3 cup Splenda (0r other granular sweetener)
1/2 cup almond milk
3 Tbsp cornstarch
3/4 cup Lily sugar free chocolate chips
1 tsp real vanilla
Heat the first four ingredients in a saucepan until hot.
In a separate, small bowl, slowly stir the extra 1/2 cup cold almond milk into the cornstarch until smooth, then add to saucepan. Bring to a boil and stir for two more minutes. Remove from heat, stir in the Lily chocolate chips and vanilla until smooth.
For pudding: Chill (or serve warm–yum!) and top with whipped cream sweetened with Splenda or a similar sweetener.
For mousse: chill pudding, then gently blend in real whipped cream sweetened with Splenda. Top with additional whipped cream.
Yummy!
Finally, here is an excerpt,  cover and a link for my friend Lyn Cote's newest book, AMY'S FOREVER LOVE,  which is out now. Don't miss it!
Even though Amy Broussard is their aunt, her twin little girls call her "mom." In the midst of a harsh winter, Amy is helping build her Habitat for Humanity home, just the security she's always wanted for her girls. But one frigid evening on their way to the church potluck, she and her girls find two orphaned kittens. And there she meets the local veterinarian and surprises him by volunteering to adopt the kittens on the spot, fulfilling another promise to her girls. The vet's basset hound Bummer in turn surprises everyone by instantly "adopting" the two golden tabbies too! From then on, like it or not, Amy and the vets' lives intersect with the "help" of Bummer and the twins. Yet before love can bloom, both adults must work through a winter of heart-healing as family secrets and grudges are unraveled.
From a USA Today Bestselling author, a heartwarming story of love, faith and the power of forgiveness. And the joy of furry friends!
https://booksbylyncote.com/SWBS/books-by-lyn/amys-forever-love-clean-christian-romance