OLD DOGS, WONDERFUL FRIENDS…& A NEW BOOK: HOUSE FULL OF HOPE by MISSY TIPPENS!
Our Babies Are Growing Old
By Missy Tippens
A couple of years ago, I shared with you about my dogs. Well, they're growing older, now, getting a little gray on the muzzle. Slowing down just a bit.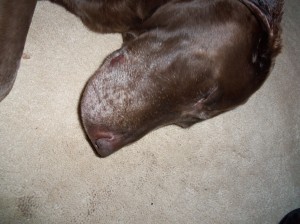 Our oldest dog, the lab, is almost 12! But last week, she just had a good yearly checkup at the vet. All her blood work was normal. I'm so thankful she's healthy! But we're having to start to think about doing doggie diapers. A friend recently shared that they use them for her older dog. I think it's time for a trip to Petsmart. 🙂
You know, when you adopt or buy a puppy, you tend to forget it's a life-long commitment. You're excited about the newness. The cuteness. The sweet puppy breath and kisses lapped across your cheek. The precious romps in the back yard.
Then 12 years later, you have a senior dog who needs care just like a human member of the family. I'm ready and willing, though. Our lab has been a contributing member of our family for years, offering…
Unconditional love.
A pretty vicious sounding bark as a great guard dog.
Entertainment for the kids.
Soulful brown eyes and happy ears when she "grins."
A wagging tail to welcome us home every time we arrive.
There's nothing better than a faithful, old dog.
Missy's newest book from Love Inspired just released!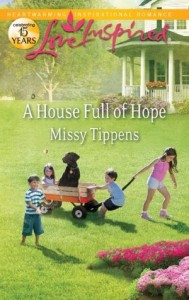 A HOUSE FULL OF HOPE.
Love Inspired
February, 2012

From black sheep to father of four…
Before becoming a Christian, Mark Ryker ran with a bad crowd and broke hearts. Including his father's. Now a successful businessman, Mark has come home to Corinthia, Georgia, to make amends. But no one will forgive him. So when the widowed mother of four renting his dad's run-down house needs help fixing up the place, Mark gets to work. Pretty Hannah Hughes and her sweet kids have him longing to be part of the clan, but Hannah isn't ready to let go of the past. Still, they are working together on a house full of hope—and that's all Mark needs.