Mugsy, the most lovable dog–and Linda Goodnight's newest book
The Love Dog
by  Linda Goodnight
Some couples celebrate a twenty-fifth anniversary with a new wedding ring or a trip to Hawaii. We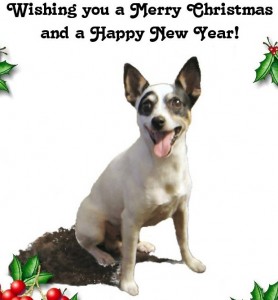 celebrated with a new puppy. You see, my old rat terrier had died and I had mourned his loss deeply – so deeply that I refused to consider another dog for a long time. On our anniversary, my husband was gone most of the day and when he returned, he came into my office with something inside his jacket. When he took out the tiny rat terrier I fell in love.
Everyone that ever met Mugsy liked him. Neighbors would bring people over to watch him do tricks and climb trees. Children wallowed him without fear of a snap or growl. Dogs didn't fight with him either, because Mugsy loved everyone. He simply refused to have an enemy. Even cats soon stopped hissing because he just kept on loving them until they loved him back. I guess there's a lesson to be learned from that little dog. Keep on loving, even the unlovable. No one can resist love forever.
Mugsy's gone now but we will never forget the little dog that loved so well. In my latest Love Inspired, THE LAST BRIDGE HOME, the heroine owns two rat terriers. Just for fun one of them is named Mugsy.
THE LAST BRIDGE HOME
Love Inspired
February 2012
Zak to the rescue…..
Doing the right thing always came easily to firefighter Zak Ashford. So he can't refuse taking in the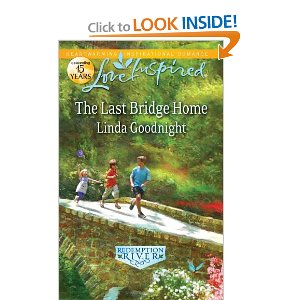 dying wife he thought divorced him long ago—and watching over her three troubled children. The only person Zak can turn to is his cute neighbor, Jilly Fairmont, who helps him and the children through their loss. And not just because she secretly cares for Zak. Yet it isn't long before Zak realizes what this honest, compassionate woman means to him, too. Can he convince Jilly that his life would be complete if she agreed to share his future?
Series:  Redemption River….where healing flows
THE LAST BRIDGE HOME  is available in bookstores everywhere, as well as christianbook.com, harlequin.com, barnesandnoble,com, and amazon.com
Note from Roxanne:  I'm so happy that this book has hit the shelves!  Linda Goodnight is an "auto buy" for me, and I have loved every book in this series.  I read it in one sitting and was only sorry when I reached "The End.'  Don't miss it!