Horses, writing and the end of summer
We're nearly to the end of August already, and I can hardly believe it!  My husband and I have traveled a lot this spring and summer, and the time has just flown.  I've been meaning to post photos from our trip to England and Ireland in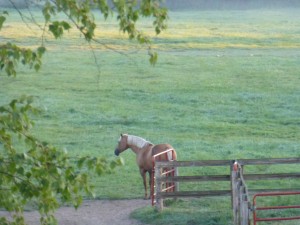 May/June, and will get to that soon. In the meantime, I thought I would share some others.
Here's one of the mares, enjoying a lovely, cool August day.  It's been such fun to ride this summer.
Back in the day, we used to raise quarter horses, and always had broodmares and young stock but nothing to ride. Now we just have three–all quiet, well broke mares who are  enjoyable to ride, but even if there isn't time for that, it's such a joy to simply look at them, and to do my barn chores.  Winston Churchill is credited with saying,  "There is something about the outside of a horse that is good for the inside of a man."  He was so right!  It just does my heart good to look outside and see my girls.  Last week we got our second cutting of hay into the barn, so now we are set for winter–and that is a wonderful feeling, too!
When not playing with the horses, I'm in my office writing.  But now and then, I get away–and last weekend was wonderful!  The Blue Belle Inn in St
Ansgar, Iowa is the most beautiful B&B I've ever seen.  Innkeeper Sherrie Decker is also a writer, and she plans writer retreats every other year.
Oh, my.  The food is always wonderful, the setting is gorgeous, and the room are utterly charming.  Check out her website at www.bluebelleinn.com  and see what I mean!  This year four of us were speakers:  Lyn Cote (in blue), Erica Vetsch (in plaid), Mary Connealy (in red, upper right) and me (in the baggy white shirt. Which was clearly a fashion mistake!)  Then again, I spend most of my time in jeans, boots and T's, so I suppose anything is an improvement. 🙂  The weekend was extra-special because my daughter was able to come along once again. She's in her last year of grad school, but is also an aspiring author and is half-way through writing her second book.
But now, we're all back home and it's time for me to get back to work…no more socializing with other writers for me until the  Novelist's Inc conference in October!
So…what were the highlights of your summer?  I'd love to hear from you!
Happy Trails,
Roxanne