From Scared to Loved…guest blogger Angela D. Meyer
Guest blogger  Angela D. Meyer
Don't forget to page down–for info on a great promotion going on just through today, February 14!!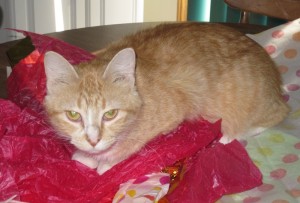 One year old Lucy was a scaredy cat when we brought her home from the humane society. She was used to fending for herself on the streets and hissed at any perceived danger. This was usually at our dog, Ranger. He is mixed breed of German Shepard, Golden Retriever and Newfoundland. No wonder our little cat was frightened. She was also a recent mother and prowled our house mewing for her kittens. She avoided us unless she needed food.
To help our pets learn to get along, at first we kept her in the bathroom with her litter box when we weren't around and at night. Little by little, she gained her complete freedom, but that didn't mean she trusted Ranger. She still gave him a wide berth. At least she tolerated him.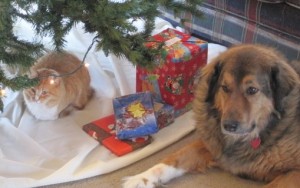 It's been almost four years now and there have been some changes. On occasion Ranger and Lucy attempt to play with each other. But much like a boy and girl playing at being interested in each other, one day she wants to play and he wants to be left alone. Then they reverse roles. But when they get the same idea at the same time, we all get quiet and watch. It doesn't usually last very long and we don't want to miss it.
Lucy has transferred her motherly attentions to the family. In the mornings she is restless until everyone in the house is up. If Ranger hasn't been fed yet, she will meander around his bowls until we get the idea that he needs his food as well. Then she finds a spot and takes her morning nap.Lucy loves attention now. As soon as someone sits down,
in all likelihood she will jump up in your lap. I still remember the first time she jumped up into mine. I told everyone. She also likes to be held looking over a shoulder like a little baby. And at night you can find her curled up on my daughter's bed. Unless a guest is sleeping on the couch and then guess where she hangs out.
Lucy has overcome her fears. Slowly, she grew to understand she was no longer abandoned, but loved. She trusts us. She may not like going outside or to the vet, but she tolerates it when we hold her. And with us right beside her, DOG does not necessarily mean danger.She also has a new perspective on life. No longer does she have to forage for herself. We provide everything she needs. And actually, she has gotten quite demanding of what she wants.
I think we need the same kinds of things to overcome our fears. Understanding that we are loved by God and a new perspective – that God is in control. We don't have to do it ourselves. What have you learned from a pet?
Here's an AMAZON LINK TO CLICK, FOR  ANGELA'S LATEST BOOK!   Where Hope Starts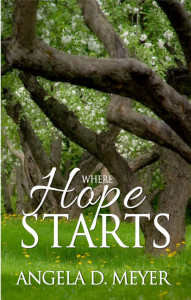 Where Hope Starts
Cross River Media
Angela D. Meyer
In a city full of dreams… Karen Marino's life is a nightmare. The New York City restaurant manager is a professional success, but her marriage is in shambles. When her husband, Barry shows up drunk at her restaurant, she loses both. She flees The Big Apple and returns to her Midwestern home to sort through her options. But instead of answers, she finds an old boyfriend ready to rekindle romance, a family full of secrets and an angry brother bent on revenge.
Still in New York, Barry fights his own demons. He knows he messed up, but is powerless to stop his rage and addictions. A fistfight on the streets of the city lands him in jail and forces him to face the possibility of a future behind bars.
Karen knows holding onto her bitterness won't repair her marriage. But how do you forgive someone when you don't feel like it? As she searches for the answer, she uncovers the family secret that threatens to tear them all apart. Can she find her way back to the place Where Hope Starts?
 Would you like your own copy of Where Hope Starts? There's a promotion going on over at Angela's Facebook page just through February 14. Stop by for a chance at some great giveaways!  www.facebook.com/AuthorAngelaDMeyer
In addition to Amazon, you can find the book at the publisher's site:  http://crossrivermedia.com/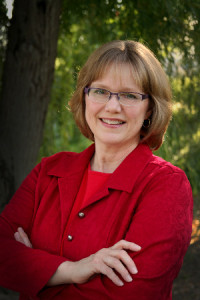 release date: September 2013
Contact addresses:
Website: www.angeladmeyer.com
www.facebook.com/AuthorAngelaDMeyer