Final Chance, a new inspirational romantic suspense! Plus, book bargains & a chance for prizes!
Hi, everyone!
I usually send just one newsletter monthly, but this is an extra because I want to share some links for two "online book sales" offering great bargains from many authors. Some might already be your favorites, but some might be new to you. Who knows—you might find some new favorite authors! Just click the links at the end of this newsletter to take a look. There are also a number of other bargains that follow.
Also, read to the end of the post to find a very special family recipe. Not fancy, but we have it every holiday because it was my mother's favorite. Such sweet memories.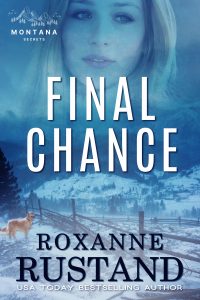 I'd also like to share news of my newest release, out on November 18th.
FINAL CHANCE is the second of five novels in my Montana Secrets series, which will all be released by early spring.
CLICK HERE for the Amazon link. Here's a quick blurb:
Arson. Attempted murder. And Kris Donaldson is the prime suspect. Why won't anyone believe she's innocent?
After years on the run from an abusive ex, Kris receives an unexpected inheritance, an acreage in the Rockies near a small, quaint mountain town. It's her dream come true–a chance to establish an animal rescue and finally lead a peaceful life. Perhaps there's even a chance of forever-after with the intriguing rancher next door.
But her dreams might just prove fatal.
A stalker will stop at nothing to destroy her new life. The threats are mounting. She's being framed for heinous crimes. Her reputation, happiness, and in the end, her life is on the line. As always, she could cut her losses and run. But this time, there's too much at stake.
This time, she's going to stay.
* * * *
Here are the winners from my early November newsletter & blog post: 
The questions were:
* What are your favorite types of books? Romance, romantic suspense, romance with a mystery—or something else?
*  Do you prefer sweet (Clean & Wholesome, or PG-13 within the pages of an adult novel), inspirational, or more graphic, secular fiction?
And here are the winners. To claim your prize, an e-copy of ONE MORE KISS, click Contact Me at my website:   www.roxannerustand.com.
Linda S: Good Morning, you are a new author to me so thank you for the newsletter. I enjoy a combo of things in my reading. I do enjoy Sweet Romance at times, the anticipation can be the best part. I also enjoy the Romantic Suspense with PG-13 plus some heat. All in all I love Romance no matter what. Looking forward to getting to know your writing.
Lynette A: I prefer inspirational romantic suspense and inspirational romance with a mystery. I also read clean romance and women's fiction.
Lena B: My favorite types of books are romantic suspense. I prefer PG-13 within the pages of an adult novel or even R, but not X.
THE NEW QUESTIONS IN THIS NEWSLETTER:  Winners will be listed in my December 14th newsletter and this blog, so be sure to check back!  Whether you are reading this in my newsletter or here on the blog at my website, this is the place to provide your answers, in the Comments section below.
Thanksgiving is nearly here.  What are some of your favorite foods at Thanksgiving?  Do you have a special memory of this holiday? 
Here is a simple holiday recipe that is very special to us, as my dear, late mom made it for every holiday. Our kids and their kids love it as much as I do. The recipe is from the early 1980s…or maybe earlier.
CRIMSON HOLIDAY SALAD
1 pkg (3 oz) raspberry Jell-O (we use sugar-free)
1 pkg (3 oz) lemon       Jell-O (we use sugar-free)
2 cups boiling water
10 oz pkg frozen raspberries
14 oz prepared cranberry-orange relish (or 1 1/3  cups if you make your own)
8 oz Sprite (we use sugar-free)
Pour boiling water over Jell-O, stir until dissolved

Stir in frozen raspberries, break up into large pieces with a fork

Stir in cranberry orange relish

Chill until cold but not set

Slowly stir in the Sprite along side of bowl. Mix with up and down motion.

Chill until partially set, then pour into a six-cup ring mold.

Chill for about four hours. Serve with whipped cream.
* * *
TWO ONLINE BOOKFAIRS ARE RUNNING NOW. Find lots of bargains!
I love sharing these opportunities with you every month. I have books in each of them, but you'll find lots of books by other authors—all at discounted prices, and some are free. Who knows? You might find your all-time favorite author by clicking on these links!
Cuddle Up With a Cowboy:  sweet, clean cowboy romance reads:  https://books.bookfunnel.com/cuddleupwithacowboy/vkbwbjz9u1
Contemporary Romance –Kindle Unlimited Books   https://books.bookfunnel.com/contemporarykunov/lj2d0ivsi7
AND HERE ARE SOME HOLIDAY BOOKS FOR JUST $.99, SO CHECK THESE OUT TOO!    The following novellas (on sale for just $.99 each—some with limited times—are  from the authors in the Sweet Romance Reads  group, just in time to help you build your Christmas spirits!  
If you'd like to check out The Sweet Romance Reads blog,  CLICK HERE
Josie Riviera's new sweet contemporary holiday release 1-800-NEW YEAR is now on preorder, for only 99¢. https://www.amazon.com/dp/B09HQ55NWB/ref=cm_sw_em_r_mt_dp_3R3DZGG3TBFXEJ78SJP4
MERRILLEE WHREN      PUPPY LOVE AND MISTLETOE
99 cents November through December
Can a little girl and a fluffy black dog bring Amelia and Scott together in a Christmas miracle?
B&N: http://bit.ly/2B7WISs Puppy Love and Mistletoe
Amazon: http://amzn.to/2B9RxRL
Apple: http://apple.co/2A4gQHB
Kobo: http://bit.ly/2i1knQr
VICKIE MCDONOUGH     THE FRUITCAKE SCANDAL
 99 cents November through December
Pastor Clay Parsons waited a year to bring his fiancée, Karen Briggs, to his new church post. They plan a Christmas wedding, but in the meantime, Karen helps the church ladies with various projects, including a bake sale. But revealing her fruitcake recipe could spell disaster for her future with Clay and his congregation.
For Amazon:  CLICK HERE   
ROXANNE RUSTAND     A MONTANA CHRISTMAS
99 cents November through DecembeR
What do you risk if you step back into your past?
Kristen Jones goes to Montana to get her late grandmother's house ready to sell, but finds much more than she bargained for: an enemy she doesn't expect, a house she can't let go, a charming mountain town, and a handsome veterinarian who just might steal her heart.
For Amazon and all other major retailers.  CLICK HERE 
LYN COTE         BENEATH NORTHERN LIGHTS
99 cents Nov 17-30th
Two wounded souls, a puppy, Christmas coming, someone out to destroy a man's dream~
After a life-altering event, Nick's one goal–to race his beloved husky, Maddie, in the Apostle Islands Dog Sled Race. Megan adopts Maddie's pup, the runt, and soon helps "grumpy" Nick care for his dogs. Nasty pranks start–who's out to rob him of the joy of the race?
https://booksbylyncote.com/SWBS/books-by-lyn/beneath-northern-lights-a-holiday-story
DONNA FASANO        GROWN-UP CHRISTMAS LIST
99 cents Nov 1 – Dec 31
Running for her life, Dina Griffin wants only one thing this Christmas–to feel safe. Officer Gav Thomas is ready to protect and serve, but he never imagined he'd fall chin over toes in love.
https://www.amazon.com/gp/product/B01NBAFRYB 
KIMBERLY ROSE JOHNSON      UNTIL I MET YOU: BRIDES OF  SEATTLE SERIES
A driven graphic designer has her world rocked when she meets a software engineer who has captured her attention and possibly her heart. She's promised the Lord she would focus on Him until Christmas, but will Ian wait?
 https://www.amazon.com/Until-Met-You-Seattle-Prequel-ebook/dp/B07MB87ZR6/ref=sr_1_43
MAGDALENA SCOTT  SMALL TOWN CHRISTMAS – SERENDIPITY, INDIANA (BOOK ONE )
Melissa and her son need a new start. Jim wants a second chance. The past can ruin their future…or make it magical.
Melissa is back in Serendipity, Indiana to raise her young son and run her new business. Her best friends still live here, but so does the man who broke her heart years ago. Serendipity is full of surprises, and second chances. And this year, there's an undeniable touch of Christmas magic.
Apple: http://apple.co/1fXJADS
Kindle: http://amzn.to/2eVVxux
Kobo: http://bit.ly/2jbY20Y
Nook: http://bit.ly/1qoHpzo
LAURA SCOTT   CAITLYN'S CHRISTMAS
$0.99 November 2nd-December 15th
After witnessing a crime, can Devon keep Caitlyn safe long enough to celebrate Christmas?
Find it here by clicking these links:
Amazon  B&N   Apple   GooglePlay   Kobo
Wishing you all a wonderful Thanksgiving!
Roxanne Rustand