Debra Clopton says, "Don't You Just Love Wrinkles?!!" In dogs, that is!
Guest blogger Debra Clopton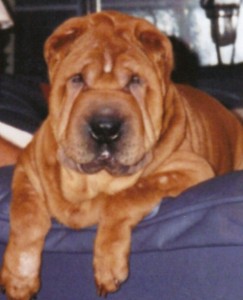 I fell in love in 2001 with a little brown ball of wrinkles when our family decided we wanted a puppy. My sons wanted something a little different so we decided on a Chinese Sharpei—or as some call them, a Wrinkled Dog. Bogie was the cutest little thing with the greatest personality. (I featured him as a puppy in my book NEXT DOOR DADDY ) Bogie was wrinkled all over and as you can see in the photo he had a huge nose! We named him Bogie after Humphrey Bogart the famous actor with a slightly large nose J.
We soon found our little Bogie loved to climb, he was more like a cat than a dog in many ways, he hated water and batted at things with his paws like a cat would (with his paws cupped inward). We found his love of climbing after things began to disappear mysteriously from our desks. We would come home and find things missing, it took us a while to realize that our puppy, who was about a foot tall at the time could climb up onto a kitchen chair twice his height and then move up from there…as in the kitchen table or desktop. We discovered his secret when we came home from church one day and found him asleep in the middle of the kitchen table! From then on out we always had to make sure all chairs were moved away from the tables when we'd leave home. Of course that didn't stop him from climbing on the back of the couch where he would perch and watch for us to return.
Our Bogie brought much joy into our lives for the nine years we were blessed to have him with us. And as a result of his wonderful personality I know he helped enhance my ability to write fun animals into my stories.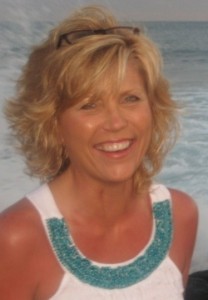 Like the fun we had with him in our lives I find it great fun to put animals in my stories and I love allowing them to cause a little chaos in the process! Like for instance in many of my books Samantha the mischievous donkey shows up to shake things up in her own special way. Samantha is a reader favorite after appearing in my second Mule Hollow book AND BABY MAKES FIVE. I always have the best time finding ways to have her come into a Mule Hollow book to cause a little trouble and say hello to my readers…stay tuned for my next book in this series, HER HOMECOMING COWBOY where Samantha makes her next appearance.
Speaking of animals, lol in my newest book HER LONE STAR COWBOY on shelves now, I decided to go to the county fair an involve a whole host of animals in a little mischife making. Yup you guessed right if you think the cows, chickens, and rabbits cause quite a ruckus—it was a really fun part of the book for me to write…not so sure what my hero Jess thought about the trouble they caused but I kinda feel like we have differing opinions on the subject! Then again I'm not the one who got caught up in the big middle of the fiasco that Jess Holden finds himself in. I hope you'll pick up a copy of the book and see if you get a good chuckle out of the County fair incident that all of Mule Hollow is talking about.
Thank you for letting me come here and talk about my boys, my Bogie and my books–my very favorite things to talk about…God really blessed me when He put them all in my life.
Read on down for a chance to win a FREE copy of  Debra's  new book!
HER LONE STAR COWBOY
~ A Cowboy's Word ~
Love Inspired
On sale April 1
The link to harlequin is http://bit.ly/H49Rdw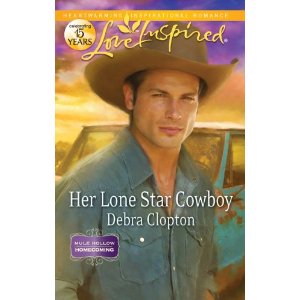 With his harrowing childhood behind him, cowboy Jess Holden made some promises to himself. He'll remain a bachelor. Won't ever get involved with a certain kind of woman. But then he rescues a lovely newcomer—and two scared calves—from a flashflood in the middle of Texas Hill Country.
Not only is veterinarian's assistant Gaby Newberry a reminder of his past she's a granddaughter of a Mule Hollow Matchmaker! But as sweet, spunky Gabi tends ailing cattle on his ranch, Jess begins to discover that some promises are meant to be broken.
Debra Clopton, AWARD WINNING AUTHOR & SERIES–
Have you been to Mule Hollow yet?
Find Debra's books and catch the buzz at: http://debraclopton.com/http://debraclopton.com
March 2011Classic reissue THE TROUBLE WITH LACY BROWN & AND BABY MAKES FIVE
April 2011 A MOM FOR MULE HOLLOW–NOVELLA (SMALL TOWN MOM'S)

Mule Hollow Homecoming Trilogy:
HER RODEO COWBOY Sept 2011 (Book 1–Luke)
HER LONE STAR COWBOY April 2012 (Book 2–Jess)
HER HOMECOMING COWBOY August 2012 (Book 3–Colt)
May 2012 Classic reissue NO PLACE LIKE HOME & DREAM A LITTLE DREAM
DEBRA WILL BE DRAWING A NAME FROM THOSE WHO LEAVE COMMENTS HERE, AND THE WINNER WILL RECEIVE A FREE COPY OF HER NEW BOOK!  BE SURE TO CHECK BACK OVER THE WEEKEND TO SEE IF YOU HAVE WON.  GOOD LUCK!