Dachshund or cat…who's the boss? Guest blogger Tammy Johnson
Guest blogger Tammy Johnson
My first book cover became official just a few weeks ago and I'm anxious to share it and a little about the book with you. Royal Rescue is a story of so many things, but a huge part of the story is a woman who longs for home. Along the journey we learn a lot about what she thinks a home is. I don't want to give too much of the story away, but there are puppies involved.
I started a Pinterest board for the story when I first began getting ideas and the puppies I imagined where furry little balls of black and white. I didn't really want them to be purebred anything. I settled on some sort of spaniel mix. I probably picked that breed because of childhood memories of a dog my sister had. It was a Brittany spaniel named Beaner. He wandered down a country road one day and found us and was probably one of the best dogs we ever had growing up. A close second was the dachshund terrier mix we had for a while too. Strangely enough, he found us as well. I don't remember every detail, but I remember him hiding under our house until we finally adopted him.
In my home now I have one dog, a dachshund. His very unique name is Weenie. In hindsight, we probably could have come up with something a little more original. It does sound a little funny when I'm standing on the back step hollering for him to come in. He started out as just a visitor though and somehow ended up staying for going on eight years now. I wouldn't trade him for anything now though. He is a fixture in our family.
We have a cat as well. Believe it or not, the cat is bigger than the dog and is definitely the boss of the house.  I enjoy watching them fight for furnace space on cold mornings.  It's not much of a fight though. Weenie tries to move close and the cat just gives him a look and he backs away. On rare mornings though, they do get along and actually lay together. It's a winter morning ritual as soon as the house starts to stir they both get to their spot where they can get some heat. Together, they do make our house a home.
I've often thought of someday adding a friend for Weenie (other than the cat), but I can't decide on the breed I'd want to go with. Another dachshund would be fun, but then I've always loved the flat faced breeds as well. Having a pug, Boston terrier, or bulldog of some sort has always been a dream of mine. I keep telling myself maybe someday.
What about you? Do you feel a pet makes a house a home and do you have a favorite breed of dog you've had or would love to have? What sort of dog do you think would make the best new friend for Weenie?
Here is a pre-order link for Tammy's new book: Royal Rescue (Love Inspired Suspense)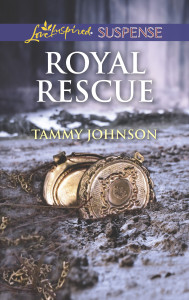 Royal Rescue is now available for preorder on Amazon and other online retailers and will be available in early April.
Find out more about Tammy and her writing journey at www.tammyjohnson.net