Author Susan Sleeman asks, What do cats and a free e-book have in common?
Susan Sleeman here. Seems unlikely that I could find a connection between my cozy mystery e-book Nipped in the Bud that is free on Amazon this week and our cat, but hey, I'm a writer and I can stretch.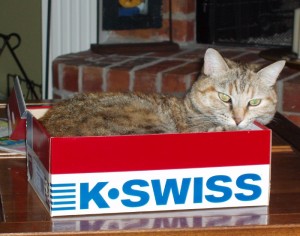 I will admit right up front that our cat Cali owns us. We adopted her as a kitten for my youngest daughter. Cali chooses when and or if she wants to be touched or even seen. In fact, she has only willingly let three people touch her since she was a kitten. She's a tortoiseshell and they are very finicky cats. She hisses at everyone but me, my husband, and one of my daughters. We live in Florida and travel to visit our children in Oregon three or four times a year and in four years, the woman who comes to our house to feed Cali while we are gone has only seen her one time. The only way she knows Cali's alive is because the food and water disappears.
Finicky or not she's fun to have around the house as she does the unexpected. All the time. Like when I bought a decorative basket for our table. When I bought it, I didn't know what I wanted to put in it. So I set it on the table as I thought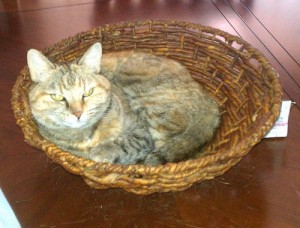 about it and as you can see by the picture, she solved that problem for me. Of course, based on experiences with shoeboxes, I should have known.  🙂
So here's the connection to Nipped in the Bud. The book's main character Paige Turner is a fun, quirky character who you never know what she'll do next. She says and does the unexpected all the time. That keeps the readers on their toes, and honestly, the writer on my toes, as I never know what's coming next with Paige. Since this is a cozy mystery, I have my hands full working out the trouble Paige gets herself into.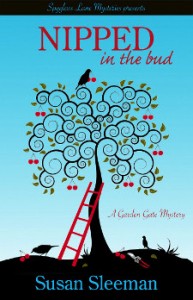 So if you like the unexpected, you should hop over to Amazon before midnight on March 24th and you can try Nipped in the Bud for free!
SUSAN SLEEMAN is a best-selling author of inspirational romantic suspense and mystery novels. She grew up in a small Wisconsin town where she spent her summers reading Nancy Drew and developing a love of mystery and suspense books.
Today, she channels this enthusiasm into writing romantic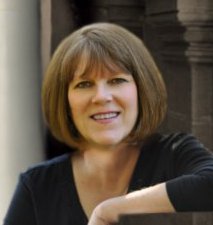 suspense and mystery novels and hosting the popular internet website TheSuspenseZone.com.
Susan currently lives in Florida, but has had the pleasure of living in nine states. Her husband is a church music director and they have two beautiful daughters, a very special son-in-law and an adorable grandson.
To learn more about Susan visit her at  –
website  http://www.susansleeman.comFacebook page http://www.facebook.com/SusanSleemanBooksOr on Twitter  http://www.twitter.com/SusanSleeman