Please Don't Call Me the Cat Lady!
I grew up in a home where even neighborhood animals were welcomed to stop in and visit. I grew up with dogs, cats, gerbils, goldfish, ducks, parakeets and even a robin as pets. In my adult life, I've limited myself to cats, usually one at a time. Professor, Sheba, Shadow have been my feline friends over the years. Then when we moved north, we found V-8 and Sadie at the local shelter. Two cats at the same time. We were rolling in cats! Then my daughter moved home, bringing my gran-kitty Tricksy with her. And then my mil passed away and we inherited Mootzie (She was of Slovenian heritage and mutza is how they sat cat.) So here I am with four cats at once. But I didn't plan that, so don't call me the cat lady! (But of course I love them and they give us such joy with their playful ways.
What interesting names have you given your pet?
Guest blogger:  author Lyn Cote
2011 ACFW Carol Winner for Her Healing Ways
http://www.BooksbyLynCote.com
For the latest Christian Fiction Market Update
http://www.booksbylyncote.com/publishers.html
Lyn has a wonderful new book out  in the stores now!  Read on….and be sure to pick up a copy!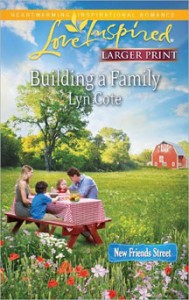 BUILDING A FAMILY, Love Inspired, ISBN: 978-0-373-87700-3
Lawyer Eleanor Washburn defends wayward teenagers and supervises volunteers for Habitat for Humanity without missing a beat. But she is unnerved by fascinating single dad Pete Beck—especially since his chaotic life includes a little girl wishing for a mother. Sweet Cassie has Eleanor yearning for what's been missing from her lonely existence. Soon, both dad and daughter are chipping away at Eleanor's defenses. Can she find the courage to risk losing her heart to this ready-made family?