Fireballs + one Husky = trouble!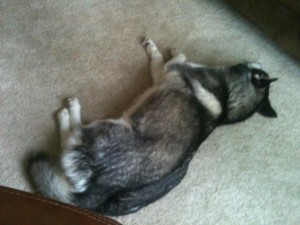 by blog guest  Jodie Bailey
We have an amazing Siberian Husky named Dutch.  He's our "God made him for us" puppy.  My husband's Army career forced us to decide not to adopt a dog until we retired because we once had to give up a beloved Alaskan Malamute when we couldn't find anywhere that would allow us to have a dog his size.  For years, I dreamed about him and missed him.
We were in the (probably bad) habit of stopping by the local Petsmart every Saturday to see the shelter dogs, always talking about when we'd get our husky.  We managed to resist every one we saw until the day I walked by the cage of a beautiful boy who looked right at me and started to "talk" in the way only a Husky can.  That was one of the things I missed most about our Kodie, his incredibly expressive "conversations."  I took one look at my husband and said, "Get me out of here before I fall in love."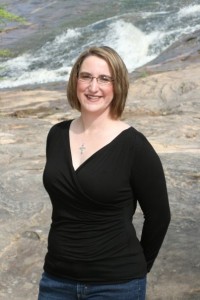 One week and one long story later, Dutch came to live with us.  And, for the record, he has never "talked" again.  However, he is my constant writing companion, generally lying right at my feet in a state of completely zonked out bliss.
One day he wasn't at my feet.  I didn't think much of it; he was still into exploring the apartment on his own at that point.  But, like a sudden tornado, he came flying up the hall, galloping like he was being chased by rabid tigers.  He rounded the corner, hit the kitchen tile with all four feet skittering, and drained his water dish like it was the last liquid on earth.
That wasn't good enough.  Before I could blink, he was at the front door looking from me to the door, me to the door, clearly saying, "Come on, lady!  I have to get out of this place.  Now!"  I let the crazy dog out, and he headed straight down the stairs to a mud puddle at the side of the building, which he proceeded to lick almost dry before I could stop him. This was definitely odd behavior.
At this point, I was wondering if the dog needed a therapist, but he headed back inside and crashed in the middle of the living room like he'd just barely escaped death in battle.  After I watched for a few minutes to make sure he was okay, I went exploring to figure out what exactly it takes to scare a dog into a drinking frenzy.
Nothing in my daughter's room.  Nothing in "the dog's" room.  Ah, but in our bedroom…  in a red, slobbery line from their stashed hiding place in my nightstand drawer to the bedroom door… a trail of half-eaten Fireballs.
And in the den?  One repentant puppy who has never again tried to pilfer food.  Can you blame him?
And here's some information about Jodie's new book!
FREE FALL
Love Inspired Suspense
November, 2012
With one accusation, army officer Cassidy Matthews's name, reputation—and life—are on the line. A Special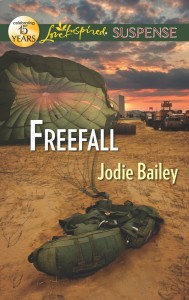 Forces soldier insists that Cassy's Fort Bragg-based unit is smuggling drugs. And the accuser? It's Cassy's handsome, stubborn ex-husband, Major Shane Logan. Shane knows Cassy is innocent, which is why he's sure she's being set up to take the fall. Proving it, though, means working together…and trying to ignore the feelings they still share. The closer they get—to the truth and each other—the more the danger grows from a ruthless criminal who'll stop at nothing to destroy them both.
Jodie Bailey
"Faith and Fiction with a Touch of Southern Grace"2
www.jodiebailey.com