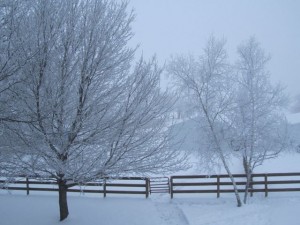 Turning from my usual theme of country life and pets, i thought I'd share one of the recipes I often make for Thanksgiving and Christmas Day dinners.
Given our frigid temps and snow right now, it would be a nice, warm addition to our next supper.
I've been making this since around 1976…when my husband's cousin's wife gave me the recipe after we were there for dinner.  It's so easy…and so good!
CORN SPOON BREAD
2 beaten eggs
1  Jiffy Cornbread mix–dry, not mixed
8 oz can creamed corn
8 oz can whole kernel corn, drained
½ cup real butter
1 cup dairy sour cream
Topping:
1 cup shredded cheddar
Mix all but cheese, pour in casserole dish or 11×7 inch  greased pan.  Bake 350 degrees for 35 minutes. Sprinkle with cheese, and bake another 10-15 min until knife comes clean.
If you don't have  oven space, during the prep for a big meal, you can "bake" this  in the microwave–rotate it every five minutes, using a lower heat setting if you have it…then  once the turkey or ham comes out of the oven, you can put the cheese on the spoon bread, and finish it in the oven for maybe 10 minutes so the cheese gets browned on the edges.