Drifter, the Australian Cattle Dog
Guest blogger Misty Beller
Growing up on a farm filled with a menagerie of animals, they were always among my best friends. Cows, horses,
chickens, goats, cats, dogs, and whatever else we happened to be raising at the time, each was special in its own way.
But we also understood the value of animals. And I'm not just talking monetary value. Sure, many of the cows and horses were worth several thousands of dollars apiece, and part of our income (and the food on our table) was derived from raising and selling them. But some of the animals had specific jobs, and without them, life would have been much harder (or at least not as fun!).
So as I write novels, it seems I can't help but include animals in some of the leading roles. My new release, The Lady and the Mountain Man, is primarily set on a ranch in the Montana mountains, and one of my favorite co-stars is Drifter, an Australian Cattle Dog.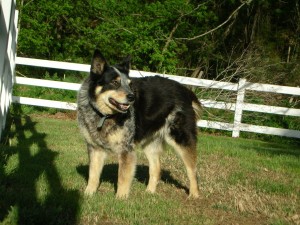 Now, I have a big confession to make. I took a fair amount of creative liberty with the timeline for Drifter. My story is set in 1874, and while the Australian Cattle Dog breed had already been "created" by George Hall in New South Wales, the dog wasn't known to be in America until later in the 1900s. In my book, I don't actually label Drifter as an Australian Cattle Dog, but his descriptions and mannerisms exactly reflect those amazing animals!
Have you ever had the opportunity to see these dogs in action? They are high energy, with amazing endurance, which makes them a cattleman's best friend. The breed was first created by crossing Old English Sheepdog types with tamed dingoes.  The result was an animal that combined the loyal friendliness and herding savvy of the sheepdog, with the endurance and hard-working abilities of the dingo.
Even the typical coat colors are the best of both breeds. The base color for each dog is a mottled blue or red from the dingo. And many Cattle Dogs have solid patches of black brown or white, with a stripe down the top of the head—all coat patterns of the English Sheepdogs.
In my novel, the hero Gideon Bryant is left to handle the ranch's seventy cattle and ten horses on his own, because of the death of his parents and brother. There's no way he could do this by himself, but with Drifter provides the extra help he needs. Together, they move the cattle to healthier pastures, round-up strays, protect them from wild animals, and anything else that needs doing.
But when a beautiful city girl shows up at the ranch to marry Gideon's dead brother, Gideon is annoyed to find that Drifter seems to like this woman better than he likes Gideon. Traitor dog.
I had so much fun getting to know Drifter in this novel, and developed an even greater respect for Australian Cattle Dog breed.
Have you ever owned one of these amazing dogs? Or perhaps you've seen them in action herding cattle or sheep? I'd love to hear your stories!
Here is an Amazon link for buying Misty's book!   The Lady and the Mountain Man (Mountain Dreams Series Book 1)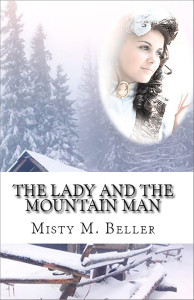 Leah Townsend, a recently orphaned heiress, flees Richmond after discovering her fiancé's plot to kill her after their wedding. She needs a safe place to hide, and finds herself accepting a newspaper marriage proposal from a God-fearing young rancher in the Montana Territory. But when Leah arrives at the mountain ranch, she learns her intended husband was killed by a grizzly, leaving behind a bitter older brother and a spunky younger sister.
When Gideon Bryant finds a city girl standing in his log cabin, his first thought is to send her back where she came from. He's lost too many people to the wild elements of these mountains––his parents, his wife, and now his brother. His love for this untamed land lives on, but he's determined not to open his heart to another person.But when an accident forces Leah to stay at the ranch for seven more months, can Gideon protect his heart from a love he doesn't want? Has Leah really escaped the men who seek her life?
Misty Beller was raised on a farm in South Carolina, so her Southern roots run deep. Growing up, her family was close, and they continue to keep that priority today. Her husband and two daughters now add another dimension to her life, keeping her both grounded and crazy.
God has placed a desire in Misty's heart to combine her love for Christian fiction and the simpler ranch life, writing historical novels that display God's abundant love through the twists and turns in the lives of her characters.You can find Misty on her website, blog, Goodreads, Twitter, Google+, and Pinterest.