Border collies & the Old West
Guest blogger Louise Gouge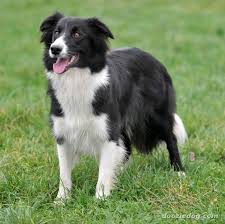 Have you ever come across an interesting piece of information that didn't serve any particular use at the moment, but you enjoyed it? Maybe it was something you saw on television or in a magazine or maybe while you were on vacation. Then later, you found that bit of information was the perfect piece to fit into a puzzle in your life.
In my case, I can't remember where I first heard that border collies have been used not only for herding sheep, but also for herding cattle. Imagine those cute little dogs telling those big old cows and steers what to do! But I seem to recall seeing the dogs in action, so it must have been a television documentary.
Anyway, when I started writing novels set in the Old West, I was excited to
have cowboys for my main characters. And if you have cowboys, you must have…drumroll, please…cows! As we know, in addition to cattle, ranches have all sorts of other animals, including chickens for eggs and frying, barn cats to keep down the mice population, and dogs to keep the coyotes away. For my fictional Four Stones Ranch in my fictional Esperanza, Colorado, I wanted to do something a little different, so I scoured my memory for that tidbit of information about dogs that herd cattle.
Thank goodness for the Internet. Although I didn't discover that border collies were actually used to herd cattle in the Old West, I did learn that they're used by American cattlemen today. (See them in action at www.youtube.com/watch?v=kbLE72rMgcU .)
Because my book is fiction (Merriam-Webster definition of "fiction": written stories about people and events that are not real: literature that tells stories which are imagined by the writer), I decided to make these little critters an important part of my story, as you can see from the cover of my new September release. I hope you'll take time to read about all the trouble these cute puppies cause my hero and heroine in Cowboy to the Rescue, in which Love finds a Home out West.
Here's the story:Though Georgia belle Susanna Anders agrees to accompany her father on a silver prospecting trip to Colorado, her heart belongs to the South. Then charming cowboy Nate Northam saves her father's life and gives them shelter at his ranch. Feeling gratitude is only natural, but falling for a Yankee? Both of their families would be outraged. While Susanna's father recovers at the Northams' home, Nate can't help being drawn to the sweet Southern beauty…and wishing he were free to think of courtship. That is until shocking revelations compel both Nate and Susanna to choose where their loyalties lie—fettered to the past or to the promise of a bold new love….
Do you have a pet? Do you have a service dog? Tell us about your favorite critter who lives in your house. I'd love to give away a cope of Cowboy to the Rescue to a resident of the U. S. Please leave your pet comment below to be entered in the drawing.
Here is an Amazon link for her new book!    Cowboy to the Rescue (Love Inspired Historical\Four Stones Ran)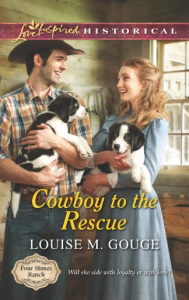 Cowboy to the Rescue
Louise Goudge
Harlequin's Love Inspired Historical,
September 2014.
Praise for Cowboy to the Rescue:   Gouge's characters are so relatable, I feel like I'm walking right beside them as they go through trials, joys, and fall in love. There are also important topics addressed, prejudices against the South after the Civil War, how easily we can misread a situation and judge others, the tenuous relationship with fathers and sons… I could go on. In the end, as you turn the last page, I guarantee you'll smile and feel completely satisfied. MaryLu Tyndall, author of the Legacy of the Pirate Kings series.
Award-winning Florida author Louise M. Gouge writes historical fiction for Harlequin's Love Inspired Historical imprint. In addition to numerous other awards, Louise is the recipient of the prestigious Inspirational Readers' Choice Award for her 2005 novel, Hannah Rose (first place), and her 2011 Regency novella, The Gentleman Takes a Bride (second place). In 2012 she placed third in the Laurel Wreath contest with her novel A Proper Companion. Louise has e-published five of her out of print novels, one original novel, Escape from Kikwit, and one original novella, Daughter of Destiny. With her great love of history and research, Louise has traveled to several of her locations to ensure the accuracy of her stories' settings. When she isn't writing, she and her husband love to visit historical sites and museums. Please visit her Web site at http://blog.Louisemgouge.com