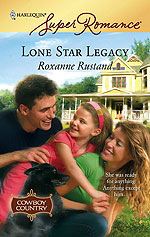 LONE STAR LEGACY
September, 2007
Harlequin SuperRomance
ISBN 978-373-71442-1
A romantic suspense set in Texas. What happens when a woman loses nearly everything–her husband, her home, and even her reputation, and is suspected of a crime she didn't commit? A legacy from her late aunt is Beth Lindstrom's chance for new beginnings far from Chicago, though little Lone Wolf, Texas might not be quite ready for the sort of café she has in mind. And then, someone from her past follows her there…

SAVE THE LAST DANCE
Roxanne Rustand
August, 2009
FOUR STARS… RT BOOK REVIEW MAGAZINE
Veterinarian Kate Mathers drives by the accident without a second thought. But where is her husband? He isn't answering his phone.… Then Kate gets the call from the hospital. Jared was trapped inside the wreck and now he's fighting for his life.Rushing to the emergency room, Kate knows all that matters is his survival. The trouble in their marriage, his interfering mother, their brief separation—it's all trivial. Kate needs Jared to come back to her, and she won't stop telling him that. Now all Jared has to do is listen.
"I recommend that when you sit down to read SAVE THE LAST DANCE you have a good block of reading time, because you will not want to put it down."
—Freshfiction.com
The Special Agent Series….
OPERATION: MISTLETOE
November, 2002 Superromance
ISBN: 0-373-71096-8
Texas DEA Special Agent Sarah Hanrahan has been sent to her hometown in Minnesota on an undercover operation, where the local deputy represents every reason she left there years ago. Given her dark past and the secrets she must keep, there couldn't be a more unlikely relationship. But perhaps a child with Christmas wishes and a heart full of hope can help even impossible dreams come true…
2003 LAUREL WREATH WINNER, Romantic Suspense
2003 ASPEN GOLD–WINNER
2003 WISRWA Write Touch Readers' Award WINNER
2003 Golden Quill finalist, Romantic Suspense
2003 Colorado Romance Writers Award of Excellence, Honorable Mention
Four Stars: "Compelling–a page-turner – RT Bookclub magazine
"Roxanne Rustand's…knack for creating warm, compassionate characters, layered storylines and homey towns shines within each of her stories." – The Romance Readers Connection
"…the perfect book to get you in the holiday spirit this year. Forget about the crowds, the traffic and everything else as you escape into Rustand's world of danger, passion and the joys of small town life." – Escape to Romance
"A fulfilling story, graced with a cast of memorable characters, Operation Mistletoe is one of the best series romances I've read in awhile. " –Old Book Barn Gazette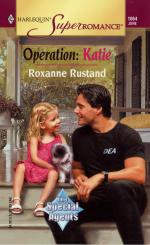 OPERATION: KATIE
Harlequin SuperRomance; June 2002
When DEA Special Agent Zach Forrester's terrified sister drops her three-year-old daughter Katie at his doorstep and then disappears, he swears he'll do anything to keep the child safe. He's soon launched into a series of events that leave him wounded and on the run with her to a small Colorado town, the one safe place he knows. Unfortunately, it's also the one place he'd never wanted to revisit, not even in his dreams. But for Katie's sake, he'll face the past–and the one woman he ever loved, but lost.
2003 HOLT MEDALLION finalist
2003 WisRWA Write Touch Readers' Award, third place
"Intrigue keeps the plot moving and interest piqued, but the characterizations are what make OPERATION: KATIE truly sparkle. Roxanne Rustand has a gift for capturing the essence of relationships in all their complexity and charm.
Zach bears scars both externally and internally that make him a flawed, extraordinary hero. Dana never backs down from her independence, yet can act with courage and passion when circumstance demands. Secondary characters are equally vivid, especially young Katie who demonstrates the behavior to be expected from such horrific circumstances, yet reveals her own appeal and intensity.
I absolutely couldn't put OPERATION: KATIE down. Very highly recommended."
– Cindy Penn, Reviewer, Midwest Book Reviews
"Roxanne Rustand has penned a sure-fire winner with OPERATION: KATIE. She reminds us of the importance of family with her warm, endearing characters. The suspense is strong throughout the entire book…the sexual tension simmers. Highly entertaining."
– Julie Shininger, Reviewer, Escape to Romance
"This story is suspenseful, daring, and most of all, it sizzles with passion. "
– Pamela James, Reviewer, Old Book Barn Gazette
FOUR STARS "…a stirring romance and a choice thriller."
– RT Bookclub Magazine
4 ½ STARS "Veteran author Roxanne Rustand weaves a heart-tugging story of unbreakable family ties. Captivating characters and a constant threat keep the reader turning the pages of this the first in "The Secret Agents" series."
– Diane Burton, Reviewer, Scribe's World
Roxanne Rustand does it again. She mixes romance with danger and the sweetness of a child that will make you fall in love with life all over again. This is not your typical reunion story as the author throws in the spice of first love with the love of a child and creates a tender, sweet, sexy and exciting adventure. Operation: Katie is a keeper!
– Diane Rowe Martinez, Reviewer , Bridges Magazine
Operation: Texas
Harlequin SuperRomance
September, 2004
ISBN: 0373712278
Honor. Determination. A soul-deep sense of family history, deeply rooted in this rocky, desolate place in West Texas. All are strong attributes of rancher Celia Remington, yet they aren't enough to keep her ranch and family safe–not when danger lurks in the shadows, and unseen forces seek to destroy all she holds dear. But when she requests assistance from the DEA, she gets more than she bargains for…a handsome, enigmatic stranger who has his own, very personal reasons for coming to her isolated ranch. I hope you'll enjoy this story of two strong, independent people who come from very different worlds…and find that impossible situations can sometimes forge the deepest bonds of all.
The Lories–Third Place, Long Contemporary
The Golden Quill–Finalist, Long Contemporary
"Suspense builds to a powerful crescendo as secrets are uncovered, trust is put to the test and lives are at risk. OPERATION: TEXAS takes us on a suspenseful journey, capturing our senses and, at the same time, warming us with a heartfelt love story. A wonderful read that should not be missed."
– The Best Reviews, Suzanne Tucker, Reviewer
" ….a satisfying read from beginning to end. A challenge to put it down!"
–The Romance Readers Connection, Jeri Neal, Reviewer
Operation: Second Chance
Feb. 2004
Harlequin Superromance
ISBN 0373711859
Imagine…
A man betrayed, who has lost his family, career, and five years of his life while incarcerated for a crime he didn't commit. How far will he go to clear his name?
A widow…who endured a difficult marriage, and is now determined to build an independent and successful life of her own. What will she risk to help a man whose darkest secrets could threaten her future?
And a child…who has lost everyone she has ever loved…but has a chance at new beginnings, if she can just open her heart.
The healing power of love and the forging of family bonds are powerful themes in romance. I hope you'll enjoy this story of three people who truly deserve a happy ending!
Holt Medallion Finalist–Long Contemporary
The Lories–Second Place Tie, Romantic Suspense
Finalist–Daphne du Maurier Award for Long Contemporary Romantic Suspense
The reviewers say…
FOUR STARS – RT Book Club magazine
This book is a thrill a minute and reads like a runaway train. Roxanne Rustand has a special way of connecting you with her characters and making you fall in love with them immediately…an excellent storyteller who can melt your heart with her heartwarming stories, and set you on edge with sexual tension as well as set up plenty of fireworks with action and danger.
– Reader to Reader & Newandusedbooks.com
An exciting second chance at love romantic suspense. Contemporary readers will enjoy Roxanne Rustand's fine tale of redemption through love not vengeance.
– The Best Reviews
Romance, heartache, and love. This is a must for fans of contemporary romance with a bit of mystery woven throughout.
– RomanceReviewsToday.com
Hang on tight readers, because Ms. Rustand definitely takes us on a rough ride in Operation: Second Chance. Man, once I started reading, I couldn't catch my breath. The momentum is quick and breathtaking. Joe and Abby are multi-layered characters who have a lot in common. And I adored Megan. That sweet little girl will touch your heart in more ways than one. For a sweet, charming romance to curl up on the couch with and read in one sitting, pick up your copy of Operation: Second Chance today. You won't be disappointed.
– WritersUnlimited.com
A great read and a wonderful addition to the Special Agents miniseries. Don't miss the latest of Roxanne Rustand's compelling, heart-warming stories. It's a winner!
– RomanceReadersConnection.com

A MONTANA FAMILY
Book #2 of the Big Sky Trilogy with Lynnette Kent and Ellen James
Harlequin Superromance, September, 2001
ISBN: 0373710089
Jolie Maxwell left Montana years ago to make a life for herself away from her powerful, wealthy ranching family. She's now a physician drawn back to her beloved mountains and small town life, who also hopes to heal the deep rifts in her family. Her handsome neighbor proves nearly irresistible, but not everyone in town is happy to see her. And someone would just as soon see her dead….
(Second title of the Big Sky Trilogy)
FOUR STARS: Returning home after many years, a spirited doctor finds herself struggling to balance a tenuous family relationship, opposition from the townspeople, and a blossoming romance with a handsome contractor. One wrong move may cost her everything—including her one chance at true love. Interwoven storylines, strong secondary characters and tender passion makes Roxanne Rustand's A MONTANA FAMILY a top-notch romance.
— Pamela Cohen, Romantic Times magazine
"This story is meant to be read in one sitting. Ms. Rustand has penned a book with humor, heart and soul, proving the old adage – you can never have too much of a good thing. I eagerly await her next book, for each of them is an adventure that makes your heart beat a little faster. "
— Pamela James, Old Book Barn Gazette
"A delectable Harlequin Superromance–strong but sympathetic main characters, a sizzling romance and a thoroughly entertaining plot. And there's so much more! In short, this tale has everything needed in a fine romance, and the result will leave you asking for more and more. If you're looking for a fast-paced and passionate romance, with plenty of mystery and thrills, A MONTANA FAMILY is the book for you." — Astrid Kinn, Romance Reviews Today
"A multi layered plot lends A MONTANTA FAMILY complexity and charm. The secondary characters, including a sheep guarding llama and puppy afraid of dust bunnies, bring a bit of humor to a tale filled with deep, intense emotion. Further, the hero and heroine are well-balanced, believable characters living with ordinary challenges and extraordinary circumstances. The hero's daughter's diabetes also lends realism, both propelling the plot and creating an interesting secondary plot line. Very highly recommended."
— Cindy Penn, Senior Editor, WordWeaving.com
RODEO!
Roxanne Rustand
ISBN: 037370982X
April, 2001 from Harlequin Superromance
The world of rodeo is exciting, fascinating, and dangerous. Imagine a job for which you might commute hundreds of miles, work eight seconds, and then commute hundreds of miles again. Sounds like an easy work day, until you factor in the high risk of serious injury or death during those eight seconds!
Those odds have already caught up with bull rider Jake Landers, who was badly injured last year. Cowboys, bullfighters, clowns, announcers, producers, contractors and other personnel on a given rodeo circuit are often close–helping each other out, cheering each other on. Jake not only faces the loss of his career and the only life he's known since he turned eighteen, but will lose touch with the people who have become his second family.
Buying a faltering rodeo company is his ticket back into the life he loves. The one person who can help him succeed is the woman he stood up at the altar ten years before, and now they'll have to travel together for the next five months. If she'll agree…and if dark secrets from the past don't tear them apart once again.
FOUR STARS: "The characters and business of rodeo come alive!"
— Affaire de Coeur magazine
"…the personal relationship is handled magnificently…a wonderful story with believable characters in believable situations. Rodeo! is a terrific read!"
— Betty Cox, Romance Reviews Today
"This book is totally enthralling. Sit back and enjoy the ride!"
— Pamela James, Old Book Barn Gazette
FOUR STARS
"Roxanne Rustand blends all the elements of a top-notch romance: passion, suspense, a rugged hero and a feisty heroine."
— Pamela Cohen, Romantic Times Magazine

The House at Briar Lake
Roxanne Rustand
October, 2000 from Harlequin Superromance
ISBN: 0-373-70946-3
Buy Roxanne's books online at Barnes And Noble
"winner of the 1999 West Houston Emily, Specialty category"
A disillusioned criminal lawyer, in search of a quiet life in a small town, ends up unavoidably sharing a house with a flamboyant woman with a dark past, the woman's rambunctious daughter, and a menagerie of epic proportions. These two couldn't be more wrong or more right for each other…
FOUR STARS "The story is rich and taut with tension."
— Affaire de Coeur magazine
"FOUR STARS" "…strong and engaging characters…emotionally charged storyline"
– Pamela Cohen, Romantic Times magazine
"You want romance at its best? Humor, warmth, a to-die-for hero…Roxanne Rustand delivers it all!"
– Cindy Gerard, Award-winning Author
"Roxanne Rustand's The House at Briar Lake is a superb blend of warmth, plot, and romance."
– Ilsa Wilson, The Old Book Barn Gazette
"Ms. Rustand has penned a funny and tender novel about love and the healing power of trust in The House at Briar Lake. Filled with wonderful secondary characters and a hero and heroine that are sure to please, this novel will entertain the most discerning romance lover."
– Jennifer MacBride, CompuServe Romance Reviews

Montana Legacy
Roxanne Rustand
March 2000 from Harlequin Superromance
ISBN: 0-373-70895-5
Buy Roxanne's books online at Barnes And Noble
Burned out cop Kate Rawlins meets Montana rancher…she claims her inheritance, and he claims her heart.
Winner of the 1998…We Dare You (Saskatchewan); The Golden Rose; Haunted by Love
Winner of the 1999 West Houston Emily, Long Contemporary category
FINALIST: THE 2001 DESERT ROSE RWA CHAPTER'S GOLDEN QUILL
THE WISRWA WRITE TOUCH READER'S AWARD 2001, THIRD PLACE
FOUR STARS: "Strong and engaging characters…emotionally charged storyline."
— Pamela Cohen, Romantic Times magazine
"Ms. Rustand is a wonderful storyteller. The combination of strength and vulnerability in her hero and heroine was the force that pulled all the threads of the storyline together. A compelling plot, wonderful characters and the magic of a true craftsman made this a late-night book for me. The only good stopping place was the end."
Lynne Dillon, Reviewer – Old Book Barn Gazette
Roxanne Rustand's fresh perspective and voice make this contemporary western romance an intriguing and fast paced tale, sure to please readers. Her well-drawn characters, involved in an intertwined series of events from past and present, will have you cheering the good guys, hissing at the villain and sometimes wondering which is which. I look forward to future offerings from this talented writer."
DanaRae Pomeroy, CompuServe Romance Reviews
Her Sister's Children
Roxanne Rustand
August 1999 – Harlequin Superromance
ISBN: 0-373-70857-2
Buy Roxanne's books online at Barnes And Noble
Romance Writer's of America Golden Heart finalist, 1998
Winner of the Write Touch Reader's Award 2000
When Claire Worth inherits Pine Cliff – a resort on Lake Superior – from her late sister, Claire also gets guardianship of her five-year-old twin nieces and her fourteen-year-old nephew. The resort she can manage; motherhood is something else again – especially when her sister's first husband shows up with plans of his own.
Ever since Logan Matthews lost Pine Cliff, his family's home, in a bitter divorce, he's had nothing to do with his ex-wife or her new family.
Logan wants the place back. And now he has the means to fight for what's his. But he's becoming more and more attracted to Claire. He loves the warmth and laughter she and the children bring to Pine Cliff. And there's something about Claire's nephew that reminds Logan of himself at that age.
Suddenly, there's a whole lot more at stake…
"..gifted new author Roxanne Rustand imaginatively strikes the right balance between emotional depth, intrigue, tears, and laughter." Pamela Cohen, Romantic Times magazine
FOUR STARS: "A heartwarming story about a man in search of family, and a woman in search of love." — Affaire de Coeur magazine
"A family under siege. Forbidden love. Courage and compassion. Her Sister's Children captures the imagination and touches the heart. Roxanne Rustand's distinctive voice charms and captivates." – Vicki Hinze, author
A Man She Can Trust
Harlequin Superromance
Blackberry Hill Memorial seriesISBN 0-373-71327-4
February, 20064 ½ Stars "…great characters and a great read!"
– Romantic Times Bookclub Magazine Blackberry Hill Memorial is a small, struggling hospital facing serious challenges, and some of staff members face them as well.
For Dr. Jill Edwards and her husband Grant, their failed marriage may provide a perfect opportunity for an old enemy to seek revenge…for an old ghost to find peace at last…and perhaps, even give them a chance to recover what they have lost.
Grace Fisher, the hospital's Director of Nursing, has devoted her life to her career and to the many foster kids she's raised. Now she's facing the rest of her life alone, with just the poignant memories of a man she's never forgotten–the once-in-a-lifetime-love who married someone else. But who knew life could change so quickly? In the blink of an eye, she herself with a troubled teenage nephew to raise, an unexpected last chance for love…and is faced with the toughest decision of her life.
Harlequin Superromance, October, 2005.
FIRST PLACE in Romantic Suspense, The Golden Quill.
Romantic Suspense finalist, Colorado Romance Writers Award of Excellence.
Long Contemporary Finalist, Colorado Romance Writers Award of Excellence.
Romantic Suspense Finalist, Gayle Wilson Award of Excellence.
Honorable Mention in Romantic Suspense, Write Touch Readers Award.
This is the first book of the five-author Home to Loveless County series set in the Hill Country of Texas. Authors Roxanne Rustand, K.N. Casper, Linda Warren, Roz Denny Fox, and Lynnette Kent will each offer exciting stories involving the people who come to a small, dying town to accept free homestead land, and a chance to start over. The books will be released monthly, from October, 2005 through February, 2006.
Life doesn't always turn out the way we plan, and for some of us a chance for new beginnings…or a place to hide…would be a dream come true. Homestead, Texas is offering that chance: nearly free land for people willing to move there and establish homes and businesses.
In the first book of this series, a physician's assistant arrives to start a new life with her young son. Her family's reputation precedes her, though, and not everyone is happy to see her. The biggest shock of all is running into a man she'd never expected to see again…a man who'd promised her happily-ever-afters, and then disappeared. A man she'd thought long dead. And then she discovers that everything she believed about her family might be untrue…
On another note…
The second and third books in the Blackberry Hill Memorial series are coming soon. A MAN SHE CAN TRUST will be out in February, and the untitled third book will be out in August of 2006. For a copy of the first book in the series, go to www.eHarlequin.com or www.barnesandnoble.com.
Almost A Family
Harlequin SuperRomance
July, 2005
ISBN: 0373712847
Blackberry Hill Memorial Trilogy Book #1
National Readers Choice Award Finalist, Long Contemporary
A hospital at the heart of a small town
After her husband leaves her, Wendy Lang figures Blackberry Hill will be the perfect place to raise her three adopted children and start her new career in hospital administration.
Right now, she has neither the time nor the inclination for romance–especially not with her reclusive landlord, Dr. Brad Cole. He might be intriguing, but if he ever learns her deepest secret, her little family could be torn apart.
And all isn't what it seems, in this idyllic little town. Patients are dying, for no apparent reason. And then she discovers that Brad has a few secrets of his own…
Christmas at Shadow Creek
Harlequin Superromance
ISBN 0-373-71165-4
Several years after the loss of her baby and the end of her marriage, Dr. Joanna Weston is starting a new life in the rugged mountains of New Mexico. An escape-artist of a horse and a Great Pyrenees pup the size of Texas are all she needs as a family–or so she thinks–until she meets a footloose cowboy and a baby girl left on his doorstep.
A child who reminds her that sometimes, dreams come true.
First Place–The 2004 Golden Quill, Romantic Suspense
First Place–The 2004 Lories, Contemporary
First Place–The 2004 Write Touch Readers Award, Long Contemporary
Third Place–The 2004 Beacon Award
Finalist–2004 Colorado Romance Writers Award of Excellence in Romantic Suspense
Finalist–2004 Colorado Romance Writers Award of Excellence in Long Contemporary
The reviewers say…
"If I were to describe the perfect romance, CHRISTMAS AT SHADOW CREEK would be it. This Superromance has everything, including a hilarious horse with personality and a dog everyone would love to have. All the generations are represented here, and they all interact perfectly in this poignant holiday story of growing love between two people. I cared deeply about everyone in the story. They were all real, all loveable. This book is completely un-put-downable for many reasons, but the main reason is Rustand's understanding and deft portrayal of human nature. I don't think I've read a better Superromance." – Rendezvous
FOUR STARS! "Joanna Weston had a hell of a year and the last thing she's looking for is romance, but try telling her heart that once she meets Ben Carson. Ben isn't looking for a relationship, but apparently no one bothered to tell his heart either. Now Joanna and Ben must find a way to deal with their emotions, without anyone getting hurt. Readers will enjoy spending CHRISTMAS AT SHADOW CREEK, thanks to Roxanne Rustand's creative storytelling and the special touch she brings to her characters." – RT Bookclub Magazine
"A gentle story of love, compassion, independence and beautiful second chances"
–The Best Reviews.com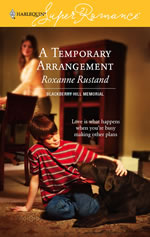 A Temporary Arrangement
Harlequin SuperRomance
ISBN 0-373-71362-2
August, 2006
FINALIST– Series Romantic Suspense, The 2007 Gayle Wilson Award of Excellence
FINALIST–Romantic Suspense (single title and series books), 2007 Award of Excellence, Colorado Romance Writers
FOUR STARS…"An entertaining read!" Romantic Times Book Reviews
10/10 rating… "Intelligent lead characters…a fascinating read" Harriet Klausner, Reviewcentre.com
After Abby Cahill takes a temporary position at a small-town hospital, she's left without a place to live when her new apartment burns down. There are no long-term summer vacancies in this busy resort town, especially since she has just adopted a bedraggled stray dog…until she strikes a bargain with injured wildlife biologist Ethan Matthews. He needs help with his young son, she needs a place to stay. What could be a more perfect arrangement? Nothing….until someone frames her for embezzlement, and mysterious problems escalate out at Ethan's isolated home. And she discovers that this idyllic summer could be her last.