Just a hint–series books sell out fast in the stores. If you want to buy new release in a brick-and-mortar store by any favorite author who writes for series lines such as Love Inspired or Love Inspired Suspense, you'll need to catch it within a week or two of its release date! Otherwise, look at Harlequin.com,  or you can search online retailers for e-book versions.
Brick and mortar places to look: Barnes and Noble, Borders, independent bookstores, Wal-Mart, K-Mart, Target, grocery and drug stores. Bookstores will probably order them for you at no extra cost if their stock is sold out.
If certain books are sold out everywhere, there's a chance that I might have some copies available, at the cover price plus media mail shipping. My local bookstore lets me order a box whenever I have a new title out, so I might have the title you need. You can e-mail through this website to see if I have any left.
You can read more about my secular books for Superromance (warm, emotional, relationship type novels, with mystery or suspense, plus romance) on my Secular Backlist page.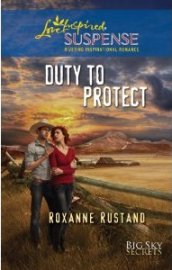 Duty to Protect
Love Inspired
December, 2011
After nearly a lifetime in witness protection, Emma Graves depends on the anonymity of her false identity. But when her parents die under suspicious circumstances, and Emma is framed for murder, all security is gone. There's nothing to do but run.
Cop-turned-rancher Jake Kincaid is an unlikely defender. Why would an ex-cop believe an accused killer? Still, Jake makes Emma feel safe. With his drive to protect, she knows staying on his ranch endangers them both—yet now that her heart's engaged, she's not sure she can walk away.
The Loner's Thansgiving Wish
Love Inspired
November 2011
The Outsider Returns
Adopted as a baby, Mei Clayton never felt like she belonged in her family. She left tiny Clayton, Colorado, the moment she could. Now, to fulfill the terms of a will, she must move home for a year. But when she reunites with handsome Jack McCord—the mountain-rescue expert she once secretly loved—she has to keep her distance. Their relatives have feuded for years. She'll never fit in with the Claytons if she gives in to her feelings for Jack. Unless faith and love can help open hearts in time for Thanksgiving. Rocky Mountain Heirs: When the greatest fortune of all is love.
A Home in Hill Country
Harlequin Heartwarming
October, 2011
Desperate times call for desperate measures
That's why the dying town of Homestead, Texas, established the Home Free program, offering land grants in exchange for the much-needed professional services modern homesteaders could bring with them.
Kristin Cantrell had leaped at the chance to return to her childhood home, accepting subsidized land for herself and her son in exchange for the skills she could provide as a physician's assistant. She didn't expect her reputation to be tarnished by a crime her deceased father had supposedly committed. She also didn't expect to see Ryan Gallagher again, even though his father, the senator, practically owned the Hill Country. Now she had to prove not only her father's innocence, but also her own.
Home at Blackberry Hill
Harlequin Heartwarming
July, 2011
Much more than she bargained for?
All Abby Cahill wanted was a quiet summer job in the beautiful Wisconsin woods. But the hospital where she's filling in turns out to be overcrowded, understaffed and decidedly stretched for cash. And as if she didn't have enough on her hands, the only vacancy in town for a "single woman with mutt" is at the farmhouse of wildlife biologist Ethan Matthews, whose son is with him for the season, along with several newborn puppies.
Ethan is a handsome, solitary man who seems to need Abby as much as she needs him. But she shouldn't be needing him or anyone else—at the end of August she's got to go back to her job in the city teaching nursing. This is just a temporary arrangement, which is starting to feel too comfortable, too much like home.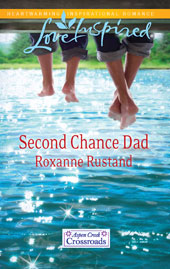 Second Chance Dad
Love Inspired
June, 2011
The minute she steps foot in his dark, miserable house, Sophie Alexander knows Josh McClaren is not her usual patient. But the single mom and physical therapist is desperate to make a life for her and her young son. And she's definitely no quitter!
It's obvious to Sophie that handsome, cantankerous Josh hides his pain behind a wall of grief. Little by little, Sophie and her son, Eli, do more than help Josh find his faith again. They make Josh wonder if there's a family in his future after all….
MURDER AT GRANITE FALLS
April, 2011
Steeple Hill Love Inspired Suspense
RT Bookclub magazine Top Pick

MURDER AT GRANITE FALLS (4 1/2 stars) by Roxanne Rustand: Attempting to make a fresh start far away from her ex-husband, Carrie Randall takes a job as a teacher in Montana. The strange reaction some of the townspeople have to her apartment's owner, Logan Bradley, worries Carrie. But Logan steps in to help her after a prowler shows up outside her home and her ex arrives in town. When a murder is committed, and Carrie and Logan are suspects, they realize they must do some investigating on their own. The fourth Big Secrets story is an intriguing mystery with some unexpected twists.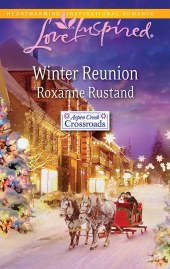 Winter Reunion
Steeple Hill Love Inspired Suspense
October, 2010
When wounded marine Devlin Sloane comes back to Aspen Creek, he's surprised by his late mother's will. His new business partner for the next six months is Beth Carrigan. His ex-wife.This might prove Dev's most difficult mission yet. He's never stopped loving the sweet bookstore owner, but his military career broke them apart. Now, as Beth and Dev work together hel ingothers get a new start on life, Dev hopes that he can break down the walls between them.And explore the possibilities of a new life and love together.
Aspen Creek Crossroads: Where faith, love and healing meet
RT BOOKCLUB MAGAZINE REVIEW…
WINTER REUNION (4) by Roxanne Rustand: Beth Corrigan was hurt when husband Devlin Sloane announced he was divorcing her. He returns to Aspen Creek, because of the stipulations in his mother's will, and he and Beth must work together to save his inheritance. He becomes involved in the lives of the people his mother was helping at Sloane House, his former childhood home. This makes him take another look at the reasons he left Beth. Will Beth forgive the hurts of the past and accept Dev back into her life? The first of Rustand's Aspen Creek Crossroads series is peopled with charming characters. It's a quiet romance that focuses on the hero's need for understanding and healing, both physically and spiritually.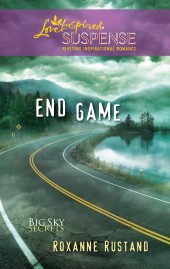 End Game
Steeple Hill Love Inspired Suspense
June, 2010
"I'll be seeing you again…"
The attacker's words still ring in Deputy Megan Peters' ears. Her attempt to trap a serial rapist terrorizing Lost Falls failed, but she has succeeded in becoming the target of his attention. Undaunted, she moves forward in her investigation, and Scott Anders, the only newcomer in town, draws her suspicion. Is his gentleness just an act?
Yet as Megan and Scott grow closer, she finds herself questioning her instincts. What will she believe–her heart, or the evidence against him?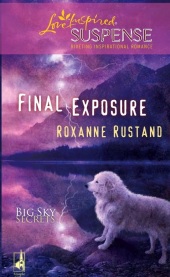 Final Exposure
Steeple Hill Love Inspired Suspense
September, 2009
Safety. Serenity.
That's what Jack Matthews wants, and what he seeks in Lost Falls, Montana. A quiet retreat is just what Jack and his orphaned nephew, Max, need—especially with gentle, beautiful Erin Cole as their host. But when sirens in the night leave Max screaming, Jack's faced with the harsh truth. They're not safe—not him, not Max and especially not Erin. What is she hiding? What does the shadowy figure stalking her want? And how much will Jack have to risk to keep her safe?"
FOUR STARS RT BOOK REVIEWS MAGAZINE…
And from longandshortreviews.com: "An intriguing suspense, Final Exposure shows two sincerely good people who feel far from God, the source of strength that has sustained them through the years. Traumatic events have made both question their faith. Now, Erin Cole and jack Matthews are each facing overwhelming problems and fears. Roxanne Rustand weaves a captivating tapestry of a tale–a story about life in the off-season tourist town of Lost Falls, Montana. With secondary characters like eight-something Isabelle, simple-minded Ollie, mysterious Barry Hubble and adorable Charlie, along with greedy and murderous antagonists to interact with, Erin, Jack and little Max struggle to get their lives back on track. A dark, ominous thread in the tapestry emerges from time to tim, stretching from Texas to Lost Falls, blurring the strong, vibrant thread of jack's efforts to help his little nephew back to normalcy and to clear his own name. Another black, frightening thread stretches from Denver to Lost Falls, and is never far from the bright and beautiful threads of Erin's life. This one creates adrenaline pumping moments for the reader. Final Exposure is an inspiring story of ordinary people doing extra-ordinary things to control wrongs as their lives entwine and love, on many levels, works its magic. This book lifts the spirits, especially if a dark thread or two has wiggled into the tapestry of your own life."
Deadly Competition
Love Inspired Suspense
May, 2009
Still missing…
A widowed mother is missing, and all her daughter, Sarah, has left is her uncle. Clueless at parenting, Clint has been searching for a loving, responsible nanny. None of the prospects have worked out, and now, he finds a stranger at his door who is as mysterious as his sister's disappearance.
Mandy Erick is cautious, and seems frightened of something in her past, but she's so good with little Sarah that Clint can't help but trust her…and soon his feelings for her deepen. But attention and commitments are the last things Mandy wants, for there's no way she'll place Clint and Sarah at risk. And at the first hint of danger, she'll be on her way.
Fatal Burn
Steeple Hill Love Inspired Suspense
February, 2009
Smoke and mirrors…
Someone's after Kris Donaldson. and they don't just want her hurt–they want her ruined. First, an arsonist tries to destroy her cabin, and evidence points to Kris as possible insurance fraud. Then an injured deputy is found at her place…with ballistics proof that he was shot with her rifle. Even Trace Randall, the arson investigator who's helped her before, seems to doubt her now. She has to prove her innocence, but how? Her reputation, her life–and her chance for happiness with Trace–are all on the line.
A REVIEW…. "Kris just wanted to start over when she came to see about the inheritance in Montana from an aunt she didn't even know she had. Her first thought was to do a bit of repair work on the ranch and sell it. But the scenery and the prospect of using her abilities and skill to run a much-needed shelter on the property was more appealing, at least in the short term. It didn't hurt that, Trace, the rancher next door was drop-dead gorgeous and his sister a quick friend.
But Kris has a past and it refuses to stay in the past. When danger haunts not only Kris, but her animals will she be able to find out the truth about what is happening before she loses everything she's gained—a home, friendships, a heart ready to love again…and her faith? A romance mystery that draws us into characters we'd like to know and a world that makes us want to vacation in Big Sky country. A perfect read for a cold Winter's day.
Reviewer Carolyn R Scheidies, at https://www.idealinhope.com/bookreviews/fiction.html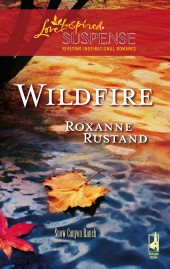 Wildfire
Steeple Hill Love Inspired Suspense
ISBN: 9780373442812
March, 2008
The past kept haunting her…
Josh Bryant was back in tiny Wolf Creek, Wyoming. Which meant high country outfitter Tessa McAllister now had more to fear than the drought, wildfires, and underhanded rivals. Years ago, the handsome photojournalist had broken her heart, leaving her with a secret to harbor alone. And now he was back in her town. Distracting her. Making her remember what they'd shared. But someone was watching them, waiting for the right moment to strike. Someone dead set on destroying their hope for a second chance.
FOUR STARS: "Ranch owner Tessa McAllister suddenly experiences quite a bit of trouble. She's shot, but the bullet only grazes her. Then she has to save the life of a man injured in a motorcycle accident who turns out to be her former love, photojournalist Josh Bryant. While he heals and waits for his bike to be repaired, Josh stays at the ranch. Can they find out who's behind all this trouble? Roxanne Rustand's Wildfire is a riveting story."– RT Book Reviews Magazine
Vendetta
Steeple Hill Love Inspired Suspense
ISBN: 9780373442775
February, 2008
Guilty until proven innocent…that was always the McAllister family motto, wasn't it? Cole Daniels will never forget it–no matter how interested he is in pretty, kind Leigh McAllister. Thanks to lies told by her uncle, Cole's father was wrongly imprisoned. Now that Cole and Leigh are both back in Wolf Creek, Wyoming, he's sure that Leigh holds the key to clearing his father's good name. But his quest for justice is complicated by the escalating sabotage of Leigh's vet clinic, his growing feelings for her, and the determination of someone who will stop at nothing–not even murder–to keep the truth about the past hidden…in this second book of the Snow Canyon Ranch trilogy….where sinister family secrets lurk in the majestic Rockies.
Reviews: "Leigh McAllister returned to Wolf Creek, Wyoming to take over a vet practice. Cole returned to discover the truth about his father's conviction for murder many years earlier and why Leigh lied on the stand—or did she? When trouble hounds Leigh and rumors swirl around both Cole and Leigh, they must somehow work together to discover the truth, before more die. A mystery romance the way it should be with a breath-taking setting, well-drawn characters and a solid plot that draws the reader in as it draws Leigh and Cole together. This sequel to HARD EVIDENCE is another winner for Rustand. "– Reviewer Carolyn R Scheidies, https://idealinhope.com/bookreviews/fiction.html
FOUR STARS: "Cole Daniels just bought property that the McAllister family had owned for decades. From the start problems exist between him and Leigh McAllister, the new vet in the area. Cole's primary goal is to discover why his father died in prison after being convicted of murder. Leigh's conflict is her once-broken heart when it comes to Cole. Also, someone doesn't want her there, and all sorts of things are happening to her clinic. Who really has the Vendetta (4) — Cole, or someone else entirely? Roxanne Rustand delivers a quick read with strong suspense." — RT Book Reviews Magazine
"This is the second book in the Snow Canyon Ranch series. Again I was impressed with this wonderful romantic suspense. Ms. Rustand brought Leigh McAllister and Cole Daniels to life. Fighting against ill-feelings that happened many years ago, their chemistry, and desire to follow the Lord, still brings them close. The explicit accurate details of working with animals, added to bringing this story to life. From beginning to end, I felt like I was fighting for Leigh's vet practice, and Cole's fight to find out what really happened the night his father was accused of murder. Did Cole's father really kill that man? Why is someone trying to sabotage Leigh's practice? A turn of events will keep you turning pages. Even if you didn't read the first book – you'll be taken in by this book. Several characters were brought back in this book, however, Ms. Rustand wrote in such away, you will still read this book and love it."– By Diane T. Stokowski, Novel Reviews
FOUR STARS: " Snow Canyon Ranch trilogy is about three sisters, each book centers around each one. Vendetta is Leigh McAllister's story. The suspense will keep you awake long into the night. Leigh has come back to Wolf Creek with her vets license and a whole lot of debt. She has taken over the local vet's clinic, she needs to make this work, she has too much invested for it to fail. When accidents start happening to her and the clinic, she believes someone in this area wants her to fail more than she wants to succeed.Cole Daniels has also returned to Wolf Creek. He is here to clear his dad's name. His dad was sent to prison for a murder Cole knows he did not commit. He starts dredging up old memories and still painful wounds with his questions. When the accidents start happening to Leigh he believes these accidents are connected to him. The suspense in Vendetta will have the reader forgetting to breathe at moments. The story is so engaging, the reader may also forget to sleep until the last page is read. A must read for fans of suspense novels."–Pat Glans, reviewer for www.cataromance.com
"Roxanne Rustand has done it again. This second entry into the Snow Canyon Ranch Trilogy proved just as exciting as the first and I found, to my surprise, that I liked Leigh even more than I did Janna in the first book. There are mysteries on top of mysteries in this book and motives are hidden and disguised. Rustand does a remarkable job of keeping the suspense up as she builds up the feelings being ignited between these two. The secondary characters are as richly drawn as the main characters and, once again, a little more light is shone on the internal struggles of the McAllister family. I'm waiting with bated breath for the third and final chapter in this family saga. I have the feeling Tessa's story may prove to be the strongest yet"– Judy Thomas, Reviewer, at www.longandshortreviews.com
"Ms. Rustand has written a story that is hard to put down. The characters are believable and their actions and reactions are realistic and quickly pull you into their lives. VENDETTA will leave readers ready for more from Ms. Rustand. Fans of romantic suspense will love this latest story. I can hardly wait for book three, WILDFIRE. VENDETTA and the Snow Canyon Ranch series are books I suggest all readers add to their keeper shelves. I know I'll be pulling them out for re-reads."– Wendy Keel, Reviewer www.romancereadersconnection.com Rating 4 ½
If you like your suspense on the edgy side, you will certainly stay up late reading Vendetta. Once again, Roxanne Rustand returns to Snow Canyon Ranch and a mystery involving a beautiful veterinarian and a man seeking vengeance. The second book in Rustand's Snow Canyon Ranch series is a un-put-down-able thriller from the opening scene. Cole Daniels is bent on retribution for the lies told that put his father in prison. He thinks his old flame Leigh McAllister has the answers he needs. But someone is out to destroy Leigh and ruin her business. How could someone as kind and compassionate attract a killer? Though he once thought her the key to his family's troubles, how will Cole now keep her safe from a killer? Brilliantly suspenseful, Vendetta continues the McAllister saga with Leigh's return to Wolf Creek, Wyoming. The tension between Leigh and Cole and the townsfolk is a steady current running in the background. Gossip and innuendo is reminiscent of typical small towns and their narrow mindedness. I felt an affinity to the couple as they tried to push their attraction away but the killer forces Cole and Leigh to put aside their preconceived notions to really see the person behind the façade. I was on the edge of my seat, staying up till the wee hours to finish Vendetta and can's wait to see what Roxanne Rustand has in store for the third McAllister sister.– Lettitia, reviewer, www.noveltalk.com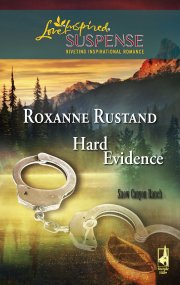 Hard Evidence
Steeple Hill Love Inspired Suspense
December, 2007
"I stayed up to the wee hours of the morning to finish this engrossing story. The characters are an exciting blend of compassion, grit, intelligence and charm. Janna is a woman I was able to identify with; her determination to restore the defunct lodge, her relatable circumstances with her mother and sisters, and the faith she has in abundance. Her warm and loving personality is readily apparent as she cares for her mother, her child and the guests staying with them. Michael is a strong and appealing hero, quickly sensing danger and willing to step up to assist in any way he is able. The love and struggle he has with his troubled son is a poignant and realistic reminder to parents of the need to talk with our kids. The vividly depicted element of danger raised the hair on the back of my neck and the twists and turns to the storyline kept me guessing to the end. For a good solid romantic suspense, you will not be disappointed with HARD EVIDENCE by Roxanne Rustand." www.romancejunkies.com
"A wonderful suspense with amazing characters and a great story." Cataromance.com reviews
"Hard Evidence is a fast-moving romantic suspense that will keep the pages turning." ChristianReviewofBooks.com
"A chilling story of mystery and romance, with well-drawn characters, set in the breath-taking Wyoming Tetons." IDealinHope.com/bookreviews
"A suspenseful read which keeps the reader on her toes and wondering until the last moment who the "bad guy" is, but also a story of faith and redemption." Longandshortreviews.com
FOUR STARS: "A warm and enjoyable mystery." RT Bookclub Magazine
"Hard to put down and harder still to wait for the other two books in the series! Roxanne Rustand's HARD EVIDENCE is a mystery laced with inspiration and romance. It is a special blend of genre that has something for everyone – a pleasure to read and suspense to boot. This is the first in a series of three books about the daughters of Claire McAllister. If the other two are as wonderful as this one, I can't wait for their release. An A+ read."
Jude Gregoire, at https://freshfiction.com
"HARD EVIDENCE is a great Inspirational suspense! The story has just the right touches of mystery to keep readers guessing. Fans of the Love Inspired Suspense line will find they have a new author to follow and adore. Ms. Rustand first trek into the world of Christian fiction is sure to find her many new readers." Romancereadersconnection.com
"Hard Evidence is a fast-paced suspense novel that will keep you guessing and worrying about the characters in the story. Janna is a stubborn woman, bent on making Snow Canyon Resort a success, but it seems everything is against her. She never got along with her obstinate, independent mother, and now she has to live with Claire and keep watch over her, in spite of caring for a young daughter and restoring the rustic cabins. She has all the pressure she can handle, and then a body is found on her property. Now she fears for her daughter and her lodgers. Michael is a great hero, strong, supportive, and commanding. He delves into the mystery and works hard to figure out what is going on at the resort, all the while, watching over the people he cares about. Hard Evidence is the first book I've read of Roxanne Rustand, and I found it engaging and enthralling. The tension rarely slows, and she creates characters that I cared about. There are several key suspects in this story that will keep readers guessing. Check out Hard Evidence for a fast-paced suspense with an inspiring inspirational message of trusting God in the hard times." Vickie McDonough at www.titletrakk.com